Songwriters Musepaper – Volume 6 Issue 4 – April 1991 – Interview: Dean Pitchford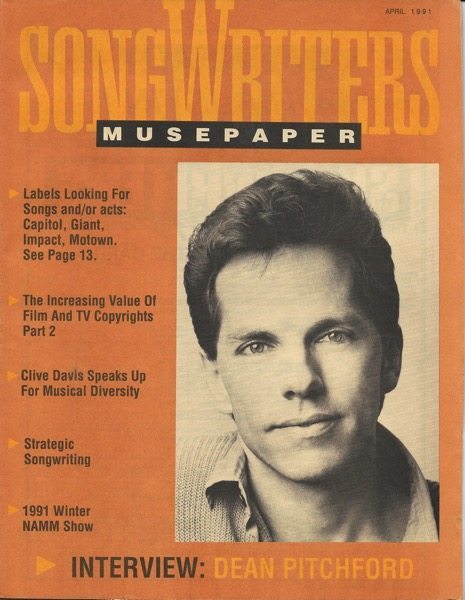 JB#: C000000062-022-001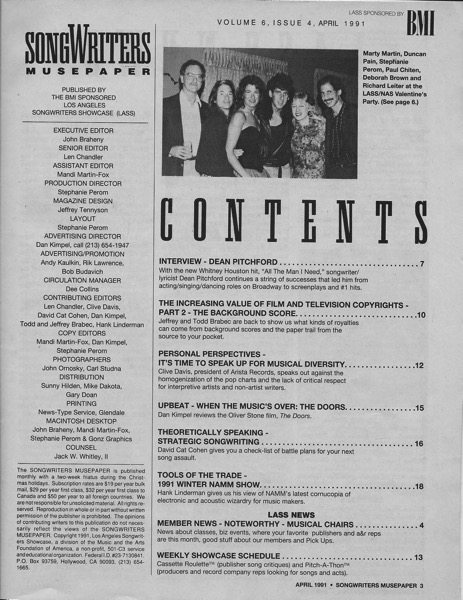 JB #: C000000062-022-002
---
Table of Contents
(Digitally converted text. Some errors may occur)
INTERVIEW – DEAN PITCHFORD 7
With the new Whitney Houston hit, "All The Man I Need," songwriter/ lyricist Dean Pitchford continues a string of successes that led him from acting/singing/dancing roles on Broadway to screenplays and #1 hits.
THE INCREASING VALUE OF FILM AND TELEVISION COPYRIGHTS -PART 2 – THE BACKGROUND SCORE 10
Jeffrey and Todd Brabec are back to show us what kinds of royalties can come from background scores and the paper trail from the source to your pocket.
PERSONAL PERSPECTIVES – IT'S TIME TO SPEAK UP FOR MUSICAL DIVERSITY 12
Clive Davis, president of Arista Records, speaks out against the homogenization of the pop charts and the lack of critical respect for interpretive artists and non-artist writers.
UPBEAT – WHEN THE MUSIC'S OVER: THE DOORS 15
Dan Kimpel reviews the Oliver Stone film, The Doors.
THEORETICALLY SPEAKING -STRATEGIC SONGWRITING 16
David Cat Cohen gives you a check-list of battle plans for your next song assault.
TOOLS OF THE TRADE-1991 WINTER NAMM SHOW 18
Hank Linderman gives us his view of NAMM's latest cornucopia of electronic and acoustic wizardry for music makers.
LASS NEWS
MEMBER NEWS – NOTEWORTHY – MUSICAL CHAIRS 4
News about classes, biz events, where your favorite publishers and a&r reps are this month, good stuff about our members and Pick Ups.
WEEKLY SHOWCASE SCHEDULE 13
Cassette RouletteTM (publisher song critiques) and Pitch-A-ThonTM (producers and record company reps looking for songs and acts).
APRIL 1991 • SONGWRITERS MUSEPAPER 3
From the Acting Archivist…
Much like the Songmine columns posted earlier, the archives contain a large collection of Songwriter Musepaper publications. With this posting, I am beginning a project to scan the cover and table of contents of each issue and then OCR (convert the scanned picture to text) the table of contents in order to make it searchable. I don't yet have the staff necessary to create complete scanned issues of the Museupaper, but if there is interest in a particular article or interview, I can scan that and make it available here.

Douglas E. Welch, douglas@welchwrite.com
Previously in Songwriters Musepaper: