Songwriters Musepaper – Volume 7 Issue 4 – April 1992- Interview: Thom Bell
JB#: C000000062-013-001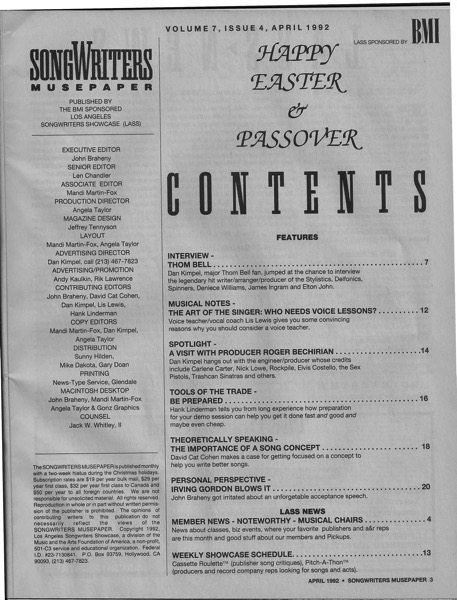 JB #: C000000062-013-002
---
Table of Contents
(Digitally converted text. Some errors may occur)
INTERVIEW – THOM BELL
Dan Kimpel, major Thom Bell fan, jumped at the chance to interview the legendary hit writer/arranger/producer of the Stylistics, Delfonics, Spinners, Deniece Williams, James Ingram and Elton John.
MUSICAL NOTES -THE ART OF THE SINGER: WHO NEEDS VOICE LESSONS? 12
Voice teacher/vocal coach Lis Lewis gives you some convincing reasons why you should consider a voice teacher.
SPOTLIGHT – A VISIT WITH PRODUCER ROGER BECHIRIAN ….. . .14
Dan Kimpel hangs out with the engineer/producer whose credits include Carlene Carter, Nick Lowe, Rockpile, Elvis Costello, the Sex Pistols, Trashcan Sinatras and others.
TOOLS OF THE TRADE -BE PREPARED 16
Hank Linderman tells you from long experience how preparation for your demo session can help you get it done fast and good and maybe even cheap.
THEORETICALLY SPEAKING – THE IMPORTANCE OF A SONG CONCEPT 18
David Cat Cohen makes a case for getting focused on a concept to help you write better songs.
PERSONAL PERSPECTIVE – IRVING GORDON BLOWS IT 20
John Braheny got irritated about an unforgetable acceptance speech.
LASS NEWS MEMBER NEWS – NOTEWORTHY – MUSICAL CHAIRS 4
News about classes, biz events, where your favorite publishers and a&r reps are this month and good stuff about our members and Pickups.
WEEKLY SHOWCASE SCHEDULE 13
Cassette RouletteTM (publisher song critiques), Pitch-A-ThonTM (producers and record company reps looking for songs and acts).
APRIL 1992 • SONGWRITERS MUSEPAPER 3
From the Acting Archivist…
Much like the Songmine columns posted earlier, the archives contain a large collection of Songwriter Musepaper publications. With this posting, I am beginning a project to scan the cover and table of contents of each issue and then OCR (convert the scanned picture to text) the table of contents in order to make it searchable. I don't yet have the staff necessary to create complete scanned issues of the Museupaper, but if there is interest in a particular article or interview, I can scan that and make it available here.

Douglas E. Welch, douglas@welchwrite.com
Previously in Songwriters Musepaper: