Songwriters Musepaper – Volume 9 Issue 5 – May 1994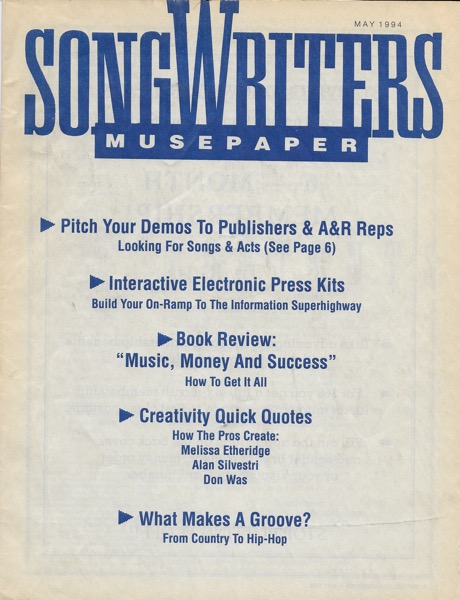 JB#: C000000062-047-001
JB #: C000000062-047-002
---
Table of Contents
(Digitally converted text. Some errors may occur)
FEATURES
CREATIVITY QUICK QUOTES………………………………………………………… 7
Here's the second installment of quotes on the creative process
from successful writer/artist/producers taken from previous interviews.
This time its Melissa Etheridge, Alan Silvestri and Don Was.
THEORETICALLY SPEAKING-
WHAT MAKES A GROOVE?………………………………………………………….. 8
An understanding of grooves is essential in contemporary music of all styles. From country to hip-hop, David Cat Cohen makes it easy for you to see how those essential grooves are put together.
TOOLS OF THE TRADE-
INTERACTIVE ELECTRONIC PRESS KITS-PART 3………………………….. 10
Simon Higgs continues his step-by-step breakdown of how to use
the latest software to assemble your own unique electronic press
kit for free promotion.
SPOTLIGHT-
BOOK REVIEW: MUSIC, MONEY AND SUCCESS……………………………………… 12
Dan Kimpel reviews a great new book by industry veterans Jeffrey Brabec (v.p. business affairs, Chrysalis Music Group) and Todd Brabec (director of membership, ASCAP) that is a "must buy" for anyone who wants to know how money is made in the music biz.
LASS NEWS
MEMBER NEWS – NOTEWORTHY – MUSICAL CHAIRS………………………. 4
News about classes, biz events, where your favorite publishers
and A&R reps are this month, good stuff about our Members
and Pickups.
WEEKLY SHOWCASE SCHEDULE………………………………………………….. 6
Cassette RouletteTM (publisher song critiques) and Pitch-A-Thon TM
(producers and record company reps looking for songs and acts).
See all Previous Songwriter Musepaper Posts
From the Acting Archivist…
Much like the Songmine columns posted earlier, the archives contain a large collection of Songwriter Musepaper publications. With this posting, I am beginning a project to scan the cover and table of contents of each issue and then OCR (convert the scanned picture to text) the table of contents in order to make it searchable. I don't yet have the staff necessary to create complete scanned issues of the Museupaper, but if there is interest in a particular article or interview, I can scan that and make it available here.

Douglas E. Welch, douglas@welchwrite.com