Songwriters Musepaper – Volume 9 Issue 10 – October 1994 – Interview: Paula Cole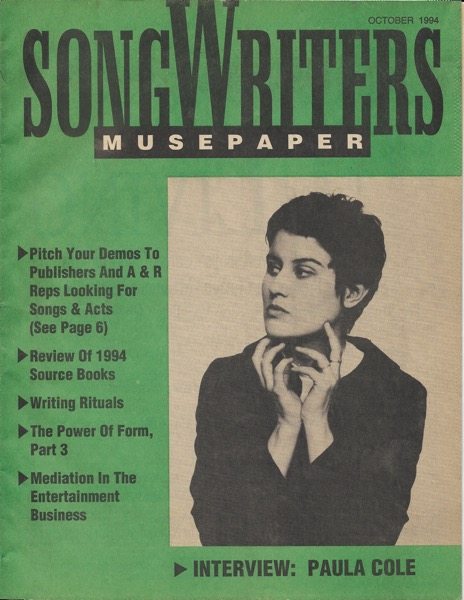 JB#: C000000062-024-001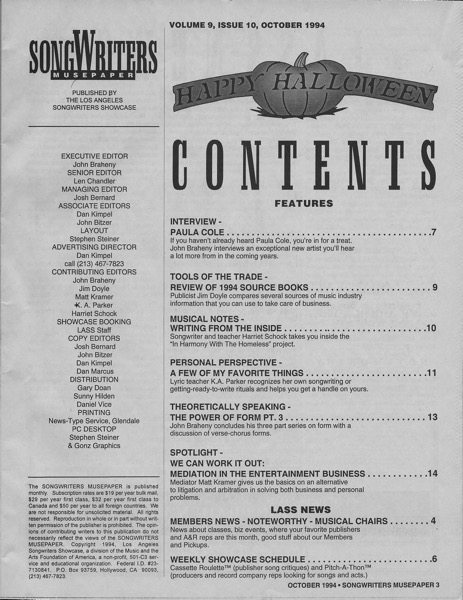 JB #: C000000062-024-002
---
Table of Contents
(Digitally converted text. Some errors may occur)
INTERVIEW – PAULA COLE 7
If you haven't already heard Paula Cole, you're in for a treat. John Braheny interviews an exceptional new artist you'll hear a lot more from in the coming years.
TOOLS OF THE TRADE -REVIEW OF 1994 SOURCE BOOKS 9
Publicist Jim Doyle compares several sources of music industry information that you can use to take care of business.
MUSICAL NOTES -WRITING FROM THE INSIDE 10
Songwriter and teacher Harriet Schock takes you inside the "In Harmony With The Homeless" project.
PERSONAL PERSPECTIVE – A FEW OF MY FAVORITE THINGS 11
Lyric teacher K.A. Parker recognizes her own songwriting or getting-ready-to-write rituals and helps you get a handle on yours.
THEORETICALLY SPEAKING -THE POWER OF FORM PT. 3 13
John Braheny concludes his three part series on form with a discussion of verse-chorus forms.
SPOTLIGHT -WE CAN WORK IT OUT: MEDIATION IN THE ENTERTAINMENT BUSINESS 14
Mediator Matt Kramer gives us the basics on an alternative to litigation and arbitration in solving both business and personal problems.
LASS NEWS
MEMBERS NEWS – NOTEWORTHY – MUSICAL CHAIRS 4
News about classes, biz events, where your favorite publishers and A&R reps are this month, good stuff about our Members and Pickups. WEEKLY SHOWCASE SCHEDULE 6 Cassette RouletteTM (publisher song critiques) and Pitch-A-ThonTm (producers and record company reps looking for songs and acts.)
OCTOBER 1994 • SONGWRITERS MUSEPAPER 3
From the Acting Archivist…
Much like the Songmine columns posted earlier, the archives contain a large collection of Songwriter Musepaper publications. With this posting, I am beginning a project to scan the cover and table of contents of each issue and then OCR (convert the scanned picture to text) the table of contents in order to make it searchable. I don't yet have the staff necessary to create complete scanned issues of the Museupaper, but if there is interest in a particular article or interview, I can scan that and make it available here.

Douglas E. Welch, douglas@welchwrite.com
Previously in Songwriters Musepaper: