Songwriters Musepaper – Volume 9 Issue 11 – November 1994 – Interview: Gretchen Peters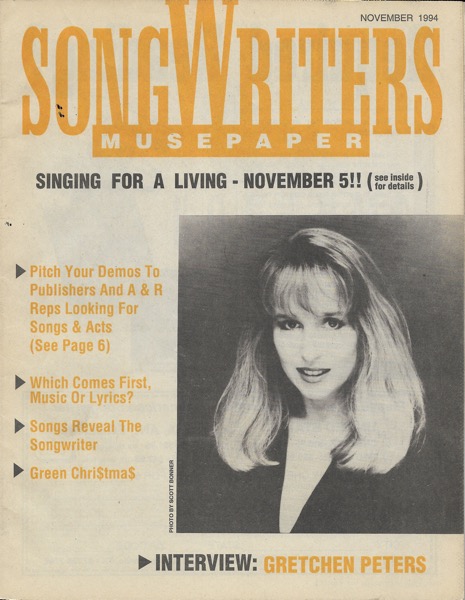 JB#: C000000062-048-001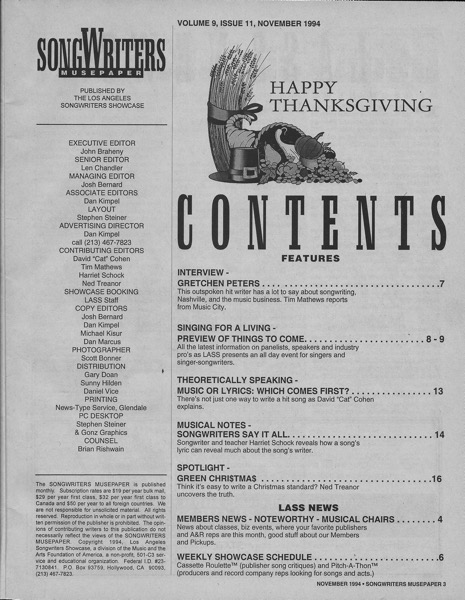 JB #: C000000062-048-002
---
Table of Contents
(Digitally converted text. Some errors may occur)
FEATURES
INTERVIEW –
GRETCHEN PETERS . . ………………………………………….. 7
This outspoken hit writer has a lot to say about songwriting, Nashville, and the music business. Tim Mathews reports from Music City.
SINGING FOR A LIVING –
PREVIEW OF THINGS TO COME…………………………………………….. 8 – 9
All the latest information on panelists, speakers and industry pro's as LASS presents an all day event for singers and singer-songwriters.
THEORETICALLY SPEAKING –
MUSIC OR LYRICS: WHICH COMES FIRSTS' ……………………………. 13
There's not just one way to write a hit song as David "Cat" Cohen explains.
MUSICAL NOTES –
SONGWRITERS SAY IT ALL…………………………………………………….. 14
Songwriter and teacher Harriet Schock reveals how a song's lyric can reveal much about the song's writer.
SPOTLIGHT –
GREEN CH RI$TMA$ ………………………………………………………………… 16
Think it's easy to write a Christmas standard? Ned Treanor uncovers the truth.
LASS NEWS
MEMBERS NEWS – NOTEWORTHY – MUSICAL CHAIRS………………. 4
News about classes, biz events, where your favorite publishers and A&R reps are this month, good stuff about our Members and Pickups.
WEEKLY SHOWCASE SCHEDULE………………………………………………. 6
Cassette RouletteTM (publisher song critiques) and Pitch-A-ThonTm (producers and record company reps looking for songs and acts.)
See all Previous Songwriter Musepaper Posts
From the Acting Archivist…
Much like the Songmine columns posted earlier, the archives contain a large collection of Songwriter Musepaper publications. With this posting, I am beginning a project to scan the cover and table of contents of each issue and then OCR (convert the scanned picture to text) the table of contents in order to make it searchable. I don't yet have the staff necessary to create complete scanned issues of the Museupaper, but if there is interest in a particular article or interview, I can scan that and make it available here.

Douglas E. Welch, douglas@welchwrite.com