Songwriters Musepaper – Volume 7 Issue 9 –  September 1992 – Songwriters Expo 16 – Interview: Jennifer Warnes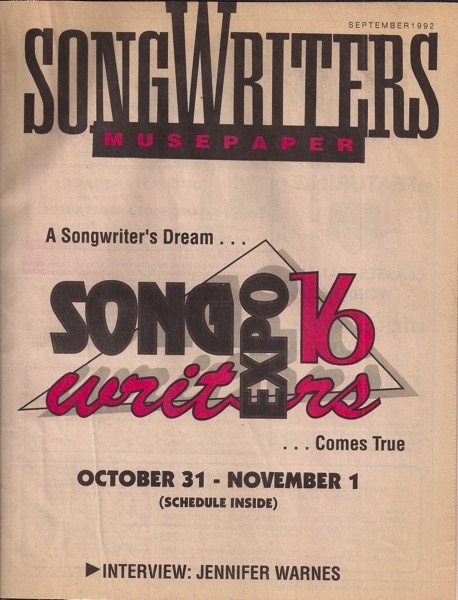 JB#: C000000062-006-001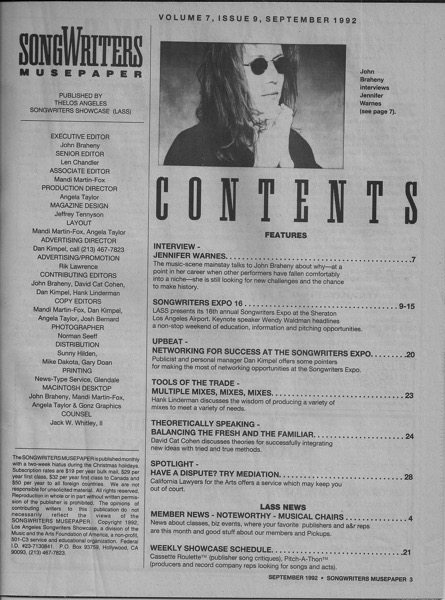 JB #: C000000062-006-002
---
Table of Contents
(Digitally converted text. Some errors may occur)
INTERVIEW —JENNIFER WARNES 7 The music-scene mainstay talks to John Braheny about why—at a point in her career when other performers have fallen comfortably into a niche—she is still looking for new challenges and the chance to make history. 
SONGWRITERS EXPO 16 9-15 LASS presents its 16th annual Songwriters Expo at the Sheraton Los Angeles Airport. Keynote speaker Wendy Waldman headlines a non-stop weekend of education, information and pitching opportunities. 
UPBEAT —NETWORKING FOR SUCCESS AT THE SONGWRITERS EXPO 20 Publicist and personal manager Dan Kimpel offers some pointers for making the most of networking opportunities at the Songwriters Expo. 
TOOLS OF THE TRADE — MULTIPLE MIXES, MIXES, MIXES 23 Hank Linderman discusses the wisdom of producing a variety of mixes to meet a variety of needs. 
THEORETICALLY SPEAKING —BALANCING THE FRESH AND THE FAMILIAR 24 David Cat Cohen discusses theories for successfully integrating new ideas with tried and true methods. 
SPOTLIGHT — HAVE A DISPUTE? TRY MEDIATION 28 California Lawyers for the Arts offers a service which may keep you out of court. 
LASS NEWS MEMBER NEWS — NOTEWORTHY — MUSICAL CHAIRS 4 News about classes, biz events, where your favorite publishers and a&r reps are this month and good stuff about our members and Pickups. 
WEEKLY SHOWCASE SCHEDULECassette RouletteTM (publisher song critiques), Pitch-A-Thon'm (producers and record company reps looking for songs and acts). 21 
---
From the Acting Archivist…
Much like the Songmine columns posted earlier, the archives contain a large collection of Songwriter Musepaper publications. With this posting, I am beginning a project to scan the cover and table of contents of each issue and then OCR (convert the scanned picture to text) the table of contents in order to make it searchable. I don't yet have the staff necessary to create complete scanned issues of the Museupaper, but if there is interest in a particular article or interview, I can scan that and make it available here.

Douglas E. Welch, douglas@welchwrite.com
Previously in Songwriters Musepaper: