Songwriters Musepaper – Volume 7 Issue 7 – July 1992 – Interview: Robert Byrne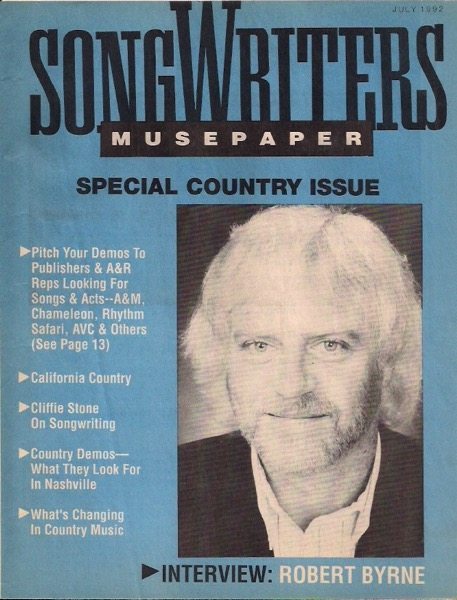 JB#: C000000062-011-001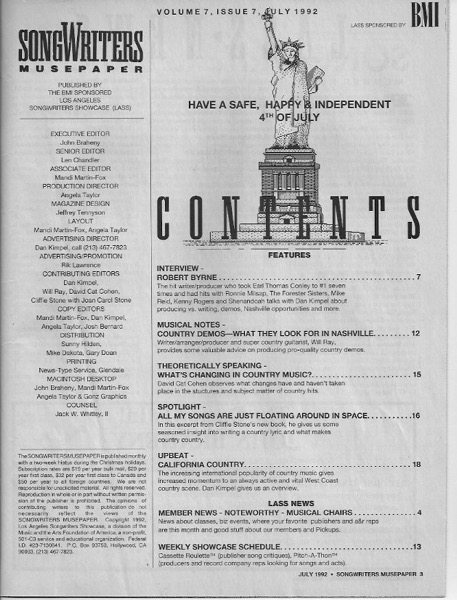 JB #: C000000062-011-002
---
Table of Contents
(Digitally converted text. Some errors may occur)
INTERVIEW – ROBERT BYRNE 7
The hit writer/producer who took Earl Thomas Conley to #1 seven times and had hits with Ronnie Milsap, The Forester Sisters, Mike Reid, Kenny Rogers and Shenandoah talks with Dan Kimpel about producing vs. writing, demos, Nashville opportunities and more.
MUSICAL NOTES -COUNTRY DEMOS-WHAT THEY LOOK FOR IN NASHVILLE 12
Writer/arranger/producer and super country guitarist, Will Ray, provides some valuable advice on producing pro-quality country demos.
THEORETICALLY SPEAKING -WHAT'S CHANGING IN COUNTRY MUSIC? 15
David Cat Cohen observes what changes have and haven't taken place in the stuctures and subject matter of country hits.
SPOTLIGHT -ALL MY SONGS ARE JUST FLOATING AROUND IN SPACE 16
In this excerpt from Cliffie Stone's new book, he gives us some seasoned insight into writing a country lyric and what makes country country.
UPBEAT -CALIFORNIA COUNTRY
The increasing international popularity of country music gives increased momentum to an always active and vital West Coast country scene. Dan Kimpel gives us an overview.
LASS MEMBER NEWS – NOTEWORTHY – MUSICAL CHAIRS 4
News about classes, biz events, where your favorite publishers and a&r reps are this month and good stuff about our members and Pickups.
WEEKLY SHOWCASE SCHEDULE 13
Cassette RouletteTM (publisher song critiques), Pitch-A-Thon1M (producers and record company reps looking for songs and acts).
JULY 1992 SONGWRITERS MUSEPAPER 3
---
From the Acting Archivist…
Much like the Songmine columns posted earlier, the archives contain a large collection of Songwriter Musepaper publications. With this posting, I am beginning a project to scan the cover and table of contents of each issue and then OCR (convert the scanned picture to text) the table of contents in order to make it searchable. I don't yet have the staff necessary to create complete scanned issues of the Museupaper, but if there is interest in a particular article or interview, I can scan that and make it available here.

Douglas E. Welch, douglas@welchwrite.com
Previously in Songwriters Musepaper: