Songwriters Musepaper – Volume 6 Issue 9 – September 1991 – Interview: Oleta Adams
JB#: C000000062-026-001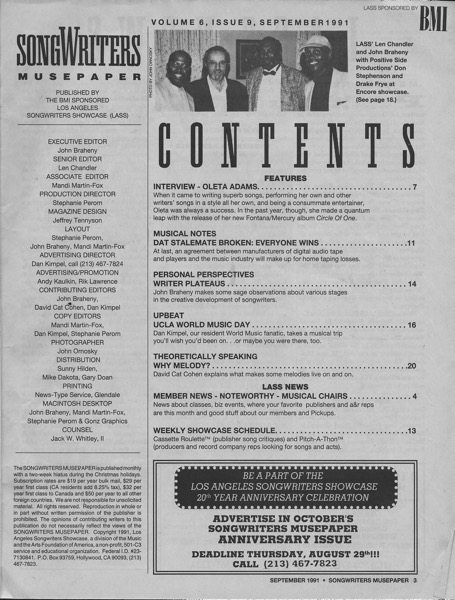 JB #: C000000062-026-002
---
Table of Contents
(Digitally converted text. Some errors may occur)
FEATURES INTERVIEW – OLETA ADAMS 7
When it came to writing superb songs, performing her own and other writers' songs in a style all her own, and being a consummate entertainer, Oleta was always a success. In the past year, though, she made a quantum leap with the release of her new Fontana/Mercury album Circle Of One.
MUSICAL NOTES DAT STALEMATE BROKEN: EVERYONE WINS 11
At last, an agreement between manufacturers of digital audio tape and players and the music industry will make up for home taping losses.
PERSONAL PERSPECTIVES WRITER PLATEAUS 14
John Braheny makes some sage observations about various stages in the creative development of songwriters.
UPBEAT UCLA WORLD MUSIC DAY 16
Dan Kimpel, our resident World Music fanatic, takes a musical trip you'll wish you'd been on. . .or maybe you were there, too.
THEORETICALLY SPEAKING WHY MELODY? 20
David Cat Cohen explains what makes some melodies live on and on.
LASS NEWS
MEMBER NEWS – NOTEWORTHY – MUSICAL CHAIRS 4
News about classes, biz events, where your favorite publishers and a&r reps are this month and good stuff about our members and Pickups.
WEEKLY SHOWCASE SCHEDULE 13 Cassette RouletteTM (publisher song critiques) and Pitch-A-ThonTm (producers and record company reps looking for songs and acts).
From the Acting Archivist…
Much like the Songmine columns posted earlier, the archives contain a large collection of Songwriter Musepaper publications. With this posting, I am beginning a project to scan the cover and table of contents of each issue and then OCR (convert the scanned picture to text) the table of contents in order to make it searchable. I don't yet have the staff necessary to create complete scanned issues of the Museupaper, but if there is interest in a particular article or interview, I can scan that and make it available here.

Douglas E. Welch, douglas@welchwrite.com
Previously in Songwriters Musepaper: