A John Braheny Songmine column from the archives…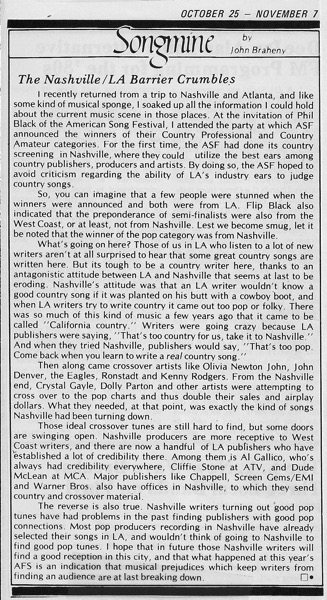 Accession Number: C000000137-024-001 Document/Digital File, "Songmine: The Nashville/LA Barrier Crumbles by John Braheny", OCR converted text under same Accession Number
(Digitally converted text. Some errors may occur)
OCTOBER 25 — NOVEMBER 7
Songmine by John Braheny
The Nashville/LA Barrier Crumbles
I recently returned from a trip to Nashville and Atlanta, and like some kind of musical sponge, I soaked up all the information I could hold about the current music scene in those places. At the invitation of Phil Black of the American Song Festival, I attended the party at which ASF announced the winners of their Country Professional and Country Amateur categories. For the first time, the ASF had done its country screening in Nashville, where they could utilize the best ears among country publishers, producers and artists. By doing so, the ASF hoped to avoid criticism regarding the ability of LA's industry ears to judge country songs.
So, you can imagine that a few people were stunned when the winners were announced and both were from LA. Flip Black also indicated that the preponderance of semi-finalists were also from the West Coast, or at least, not from Nashville. Lest we become smug, let it be noted that the winner of the pop category was from Nashville.
What's going on here? Those of us in LA who listen to a lot of new writers aren't at all surprised to hear that some great country songs are written here. But its tough to be a country writer here, thanks to an antagonistic attitude between LA and Nashville that seems at last to be eroding. Nashville's attitude was that an LA writer wouldn't know a good country song if it was planted on his butt with a cowboy boot, and when LA writers try to write country it came out too pop or folky. There was so much of this kind of music a few years ago that it came to be called "California country." Writers were going crazy because LA publishers were saying, "That's too country for us, take it to Nashville." And when they tried Nashville, publishers would say, "That's too pop. Come back when you learn to write a real country song."
Then along came crossover artists like Olivia Newton John, John Denver, the Eagles, Ronstadt and Kenny Rodgers. From the Nashville end, Crystal Gayle, Dolly Parton and other artists were attempting to cross over to the pop charts and thus double their sales and airplay dollars. What they needed, at that point, was exactly the kind of songs Nashville had been turning down.
Those ideal crossover tunes are still hard to find, but some doors are swinging open. Nashville producers are more receptive to West Coast writers, and there are now a handful of LA publishers who have established a lot of credibility there. Among them is Al Gallico, who's always had credibility everywhere, Cliffie Stone at ATV, and Dude McLean at MCA. Major publishers like Chappell, Screen Gems/EMI and Warner Bros. also have offices in Nashville, to which they send country and crossover material.
The reverse is also true. Nashville writers turning out good pop tunes have had problems in the past finding publishers with good pop connections. Most pop producers recording in Nashville have already selected their songs in LA, and wouldn't think of going to Nashville to find good pop tunes. I hope that in future those Nashville writers will find a good reception in this city, and that what happened at this year's AFS is an indication that musical prejudices which keep writers from finding an audience are at last breaking down.
Previously in the Songmine Collection:
About Songmine and Music Connection Magazine:
John Braheny met Eric Bettelli and Michael Dolan right before they were going to publish Music Connection magazine. Eric and Michael wanted to get their publication out to as many songwriters as they could. They had already heard of the LA Songwriters Showcase, and of John and his partner, Len Chandler. John's goal was to advertise the schedule of guest speakers and performers at the weekly Showcase… so they made a deal. 
They published John's Songmine column (he had never before written a magazine article!) in their very first edition, in November 1977. Trading out the column for advertising, this arrangement continued for many years. Plus, Eric and Michael came to the Showcase each week and distributed free copies to the songwriters!
Those articles became so popular that (book agent and editor) Ronny Schiff offered John's articles to F&W Media, where they became the backbone of John's textbook, The Craft and Business of Songwriting. As a follow-up, Dan Kimpel (author, songwriter, teacher), who had also worked at LASS, took on the Songwriting column at Music Connection magazine which continues to this day! You can subscribe to get either hard copies or online.