Songwriters Musepaper – Volume 6 Issue 3 – March 1991 – Interview: Alan Silvestri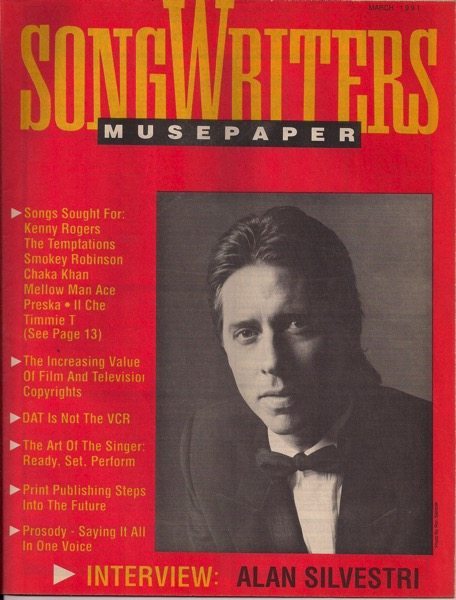 JB#: C000000062-010-001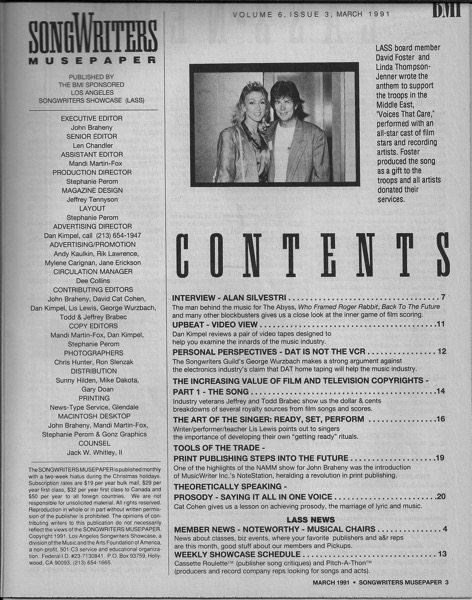 JB #: C000000062-010-002
---
Table of Contents
(Digitally converted text. Some errors may occur)
INTERVIEW – ALAN SILVESTRI 7
The man behind the music for The Abyss, Who Framed Roger Rabbit, Back To The Future and many other blockbusters gives us a close look at the inner game of film scoring.
UPBEAT – VIDEO VIEW 11
Dan Kimpel reviews a pair of video tapes designed to help you examine the innards of the music industry. PERSONAL
PERSPECTIVES – DAT IS NOT THE VCR 12
The Songwriters Guild's George Wurzbach makes a strong argument against the electronics industry's claim that DAT home taping will help the music industry.
THE INCREASING VALUE OF FILM AND TELEVISION COPYRIGHTS PART 1 – THE SONG
Industry veterans Jeffrey and Todd Brabec show us the dollar & cents breakdowns of several royalty sources from film songs and scores.
THE ART OF THE SINGER: READY, SET, PERFORM
Writer/performer/teacher Lis Lewis points out to singers the importance of developing their own "getting ready" rituals.
TOOLS OF THE TRADE -PRINT PUBLISHING STEPS INTO THE FUTURE 19
One of the highlights of the NAMM show for John Braheny was the introduction of MusicWriter Inc.'s NoteStation, heralding a revolution in print publishing.
THEORETICALLY SPEAKING -PROSODY – SAYING IT ALL IN ONE VOICE 20
Cat Cohen gives us a lesson on achieving prosody, the marriage of lyric and music.
LASS NEWS MEMBER NEWS – NOTEWORTHY – MUSICAL CHAIRS 4
News about classes, biz events, where your favorite publishers and a&r reps are this month, good stuff about our members and Pickups.
WEEKLY SHOWCASE SCHEDULE 13
Cassette Roulette'`' (publisher song critiques) and Pitch-A-ThonTM (producers and record company reps looking for songs and acts).
---
From the Acting Archivist…
Much like the Songmine columns posted earlier, the archives contain a large collection of Songwriter Musepaper publications. With this posting, I am beginning a project to scan the cover and table of contents of each issue and then OCR (convert the scanned picture to text) the table of contents in order to make it searchable. I don't yet have the staff necessary to create complete scanned issues of the Museupaper, but if there is interest in a particular article or interview, I can scan that and make it available here.

Douglas E. Welch, douglas@welchwrite.com
Previously in Songwriters Musepaper: