A John Braheny Songmine column from the archives…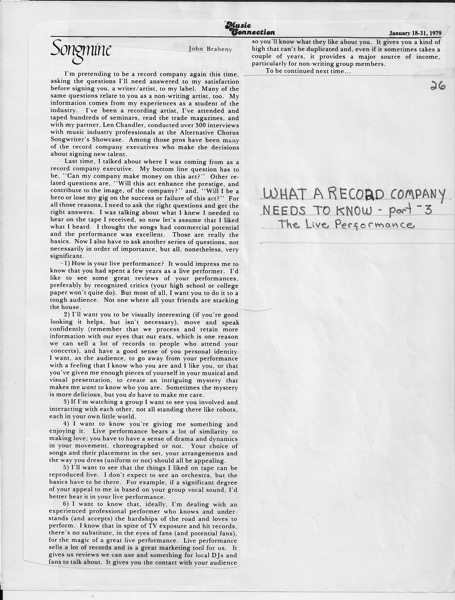 Accession Number: C000000137-011 Document/Digital File, "Songmine: What A Record Company Needs to Know: Part 3 by John Braheny, OCR converted text under same Accession Number
(Digitally converted text. Some errors may occur)
Songmine: What A Record Company Needs to Know: Part 3 by John Braheny
Music Connection
January 18-31, 1979
What a Record Company Needs to Know Part 3
John Braheny
I'm pretending to be a record company again this time, asking the questions I'll need answered to my satisfaction before signing you, a writer/artist, to my label. Many of the same questions relate to you as a non-writing artist, too. My information comes from my experiences as a student of the industry. I've been a recording artist, I've attended and taped hundreds of seminars, read the trade magazines, and with my partner, Len Chandler, conducted over 300 interviews with music industry professionals at the Alternative Chorus Songwriter's Showcase. Among those pros have been many of the record company executives who make the decisions about signing new talent.
Last time, I talked about where I was coming from as a record company executive. My bottom line question has to be, "Can my company make money on this act?" Other re-lated questions are, "Will this act enhance the prestige, and contribute to the image, of the company?" and, "Will I be a hero or lose my gig on the success or failure of this act?" For all those reasons, I need to ask the right questions and get the right answers. I was talking about what I knew I needed to hear on the tape I received, so now let's assume that I liked what I heard. I thought the songs had commercial potential and the performance was excellent. Those are really the basics. Now I also have to ask another series of questions, not necessarily in order of importance, but all, nonetheless, very significant. –
1) How is your live performance? It would impress me to know that you had spent a few years as a live performer. I'd like to see some great reviews of your performances, preferably by recognized critics (your high school or college paper won't quite do). But most of all, I want you to do it to a tough audience. Not one where all your friends are stacking the house.
2) I'll want you to be visually interesting (if you're good looking it helps, but isn't necessary), move and speak confidently (remember that we process and retain more information with our eyes that our ears, which is one reason we can sell a lot of records to people who attend your concerts), and have a good sense of you personal identity. I want, as the audience, to go away from your performance with a feeling that I know who you are and I like you, or that you've given me enough pieces of yourself in your musical and visual presentation, to create an intriguing mystery that makes me want to know who you are. Sometimes the mystery is more delicious, but you do have to make me care.
3) If I'm watching a group I want to see you involved and interacting with each other, not all standing there like robots, each in your own little world.
4) I want to know you're giving me something and enjoying it. Live performance bears a lot of similarity to making love; you have to have a sense of drama and dynamics in your movement, choreographed or not. Your choice of songs and their placement in the set, your arrangements and the way you dress (uniform or not) should all be appealing.
5) I'll want to see that the things I liked on tape can be reproduced live. I don't expect to see an orchestra, but the basics have to be there. For example, if a significant degree of your appeal to me is based on your group vocal sound, I'd better hear it in your live performance.
6) I want to know that, ideally, I'm dealing with an experienced professional performer who knows and under-stands (and accepts) the hardships of the road and loves to perform. I know that in spite of TV exposure and hit records, there's no substitute, in the eyes of fans (and potential fans), for the magic of a great live performance. Live performance sells a lot of records and is a great marketing tool for us. It gives us reviews we can use and something for local DJs and fans to talk about. It gives you the contact with your audience so you'll know what they like about you. It gives you a kind of high that can't be duplicated and, even if it sometimes takes a couple of years, it provides a major source of income, particularly for non-writing group members.
To be continued next time…
Previously in the Songmine Collection:
About Songmine and Music Connection Magazine:
John Braheny met Eric Bettelli and Michael Dolan right before they were going to publish Music Connection magazine. Eric and Michael wanted to get their publication out to as many songwriters as they could. They had already heard of the LA Songwriters Showcase, and of John and his partner, Len Chandler. John's goal was to advertise the schedule of guest speakers and performers at the weekly Showcase… so they made a deal. 
They published John's Songmine column (he had never before written a magazine article!) in their very first edition, in November 1977. Trading out the column for advertising, this arrangement continued for many years. Plus, Eric and Michael came to the Showcase each week and distributed free copies to the songwriters!
Those articles became so popular that (book agent and editor) Ronny Schiff offered John's articles to F&W Media, where they became the backbone of John's textbook, The Craft and Business of Songwriting. As a follow-up, Dan Kimpel (author, songwriter, teacher), who had also worked at LASS, took on the Songwriting column at Music Connection magazine which continues to this day! You can subscribe to get either hard copies or online.