Songwriters Musepaper – Volume 6 Issue 2 – Interview: Mary Chapin-Carpenter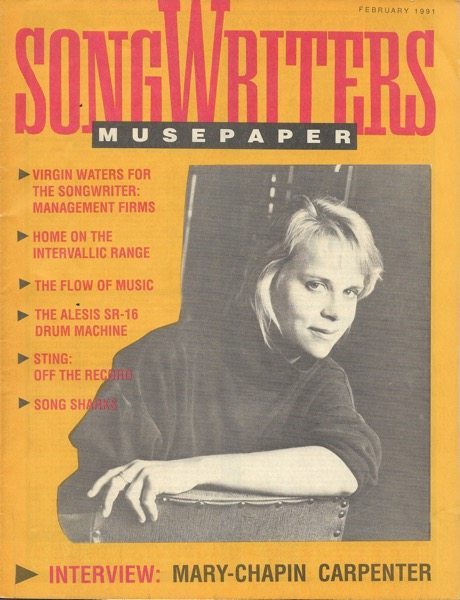 JB#: C000000062-025-001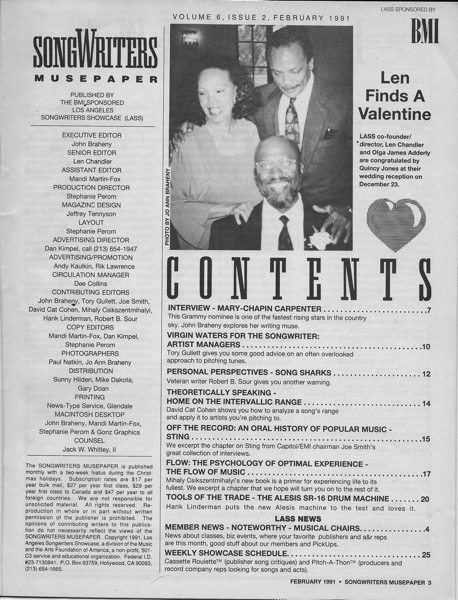 JB #: C000000062-025-002
---
Table of Contents
(Digitally converted text. Some errors may occur)
INTERVIEW – MARY-CHAPIN CARPENTER 7
This Grammy nominee is one of the fastest rising stars in the country sky. John Braheny explores her writing muse.
VIRGIN WATERS FOR THE SONGWRITER: ARTIST MANAGERS 10
Tory Gullett gives you some good advice on an often overlooked approach to pitching tunes.
PERSONAL PERSPECTIVES – SONG SHARKS 12 Veteran writer Robert B. Sour gives you another warning.
THEORETICALLY SPEAKING -HOME ON THE INTERVALLIC RANGE 14
David Cat Cohen shows you how to analyze a song's range and apply it to artists you're pitching to.
OFF THE RECORD: AN ORAL HISTORY OF POPULAR MUSIC -STING 15
We excerpt the chapter on Sting from Capitol/EMI chairman Joe Smith's great collection of interviews.
FLOW: THE PSYCHOLOGY OF OPTIMAL EXPERIENCE -THE FLOW OF MUSIC 17
Mihaly Csikszentmihalyi's new book is a primer for experiencing life to its fullest. We excerpt a chapter that we hope will turn you on to the rest of it.
TOOLS OF THE TRADE – THE ALESIS SR-16 DRUM MACHINE 20
Hank Linderman puts the new Alesis machine to the test and loves it.
LASS NEWS
MEMBER NEWS – NOTEWORTHY – MUSICAL CHAIRS 4
News about classes, biz events, where your favorite publishers and a&r reps are this month, good stuff about our members and PickUps.
WEEKLY SHOWCASE SCHEDULE 25
Cassette RouletteTM (publisher song critiques) and Pitch-A-ThonTm (producers and record company reps looking for songs and acts).
FEBRUARY 1991 • SONGWRITERS MUSEPAPER 3
From the Acting Archivist…
Much like the Songmine columns posted earlier, the archives contain a large collection of Songwriter Musepaper publications. With this posting, I am beginning a project to scan the cover and table of contents of each issue and then OCR (convert the scanned picture to text) the table of contents in order to make it searchable. I don't yet have the staff necessary to create complete scanned issues of the Museupaper, but if there is interest in a particular article or interview, I can scan that and make it available here.

Douglas E. Welch, douglas@welchwrite.com
Previously in Songwriters Musepaper: