Songwriters Musepaper – Volume 11 Issue 12 December 1996 – Interview: Allan Richl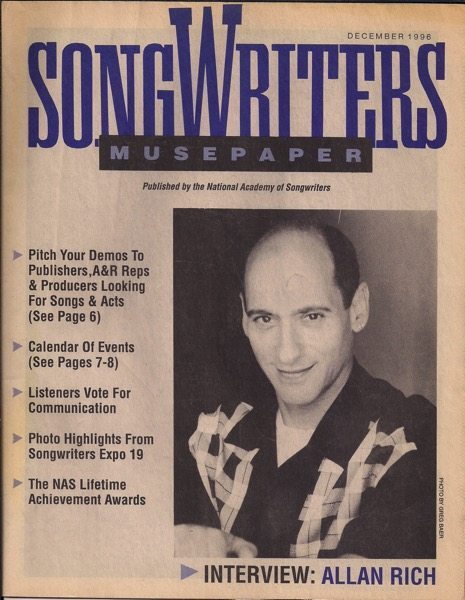 JB#: C000000062-017-001
JB #: C000000062-017-002
---
Table of Contents
(Digitally converted text. Some errors may occur)
INTERVIEW-
ALLAN RICH 9
Where do you go after you've had a hit song on the top-selling soundtrack album of all time? Dan Kimpel probes the psyche of hit maker Allan Rich.
MUSICAL NOTES-
LISTENERS VOTE FOR COMMUNICATION 16
Harriet Schock discusses the importance of communication skills in songwriting, as in politics.
SPOTLIGHT—
PHOTO HIGHLIGHTS FROM SONGWRITERS EXPO 19 18
THE NAS LIFETIME ACHIEVEMENT AWARDS 20
The Academy's highest accolade is bestowed this year on songwriting legends Leiber & Stoller, Joni Mitchell and Smokey Robinson.
ORGANIZATION NEWS
MEMBER NEWS-NOTEWORTHY-MUSICAL CHAIRS 4
News about classes, biz events, where your favorite publishers and A&R reps are this month, good stuff about our Members and Pickups.
LASS WEEKLY SCHEDULE 6
Cassette RouletteTM (publisher song critiques) and Pitch-A-ThonT. (producers and record company reps looking for songs and acts).
NAS SCHEDULE OF EVENTS 7-8
From the Acting Archivist…
Much like the Songmine columns posted earlier, the archives contain a large collection of Songwriter Musepaper publications. With this posting, I am beginning a project to scan the cover and table of contents of each issue and then OCR (convert the scanned picture to text) the table of contents in order to make it searchable. I don't yet have the staff necessary to create complete scanned issues of the Museupaper, but if there is interest in a particular article or interview, I can scan that and make it available here.

Douglas E. Welch, douglas@welchwrite.com
Previously in Songwriters Musepaper:
Songwriters Musepaper – Volume 6 Issue 1 – January 1991 – Interview: Fee Waybill