Another interesting piece of John Braheny history from the John Braheny Archives on the Craft and Business of Songwriting.
---
A "Hangout" discussion with John Braheny and Len Chandler, LA Songwriters Showcase, April 18, 1979 [Audio]
John and Len host a "hangout" session at an LA Songwriters Showcase meeting in 1979. Digitized from the original cassette tape.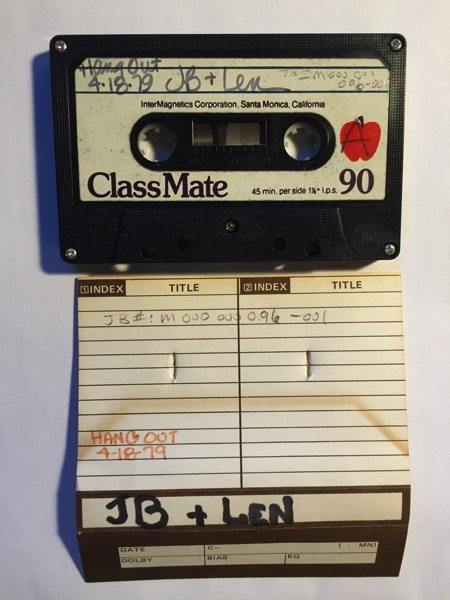 JB#: D000000096-001
(Note: These "JB" numbers are the unique Accession number for each piece in the archives and allows us to quickly locate any item by searching the archive index)
From the Acting Archivist…
As I make my way through stacks of cassette tapes — THE media used for recording during this period — I am digitizing each tape as I add it to the index. I'll only be releasing a fraction of the collection here, but if you are looking for a particular interview or LASS meeting, you might be able to find it in the archive catalog.

As I work through the collection, I have been struck with the longevity of these cassette tapes, many stored without cases in a rather haphazard manner. I have only had one or two that squeak or otherwise show signs of stress. I haven't encountered any flaking of the oxide on the tape, which was originally a worry when I first started this project. This is one of the older tapes I have seen so far.

As we move forward with the archive, I'll be looking to have any audio files — especially interviews — transcribed, so that we can create a searchable archive of all the audio available.

Douglas E. Welch, douglas@welchwrite.com
Previously on Archive Highlights: