Songwriters Musepaper – Volume 9 Issue 4 – April 1994 – Interview: Ben Margulies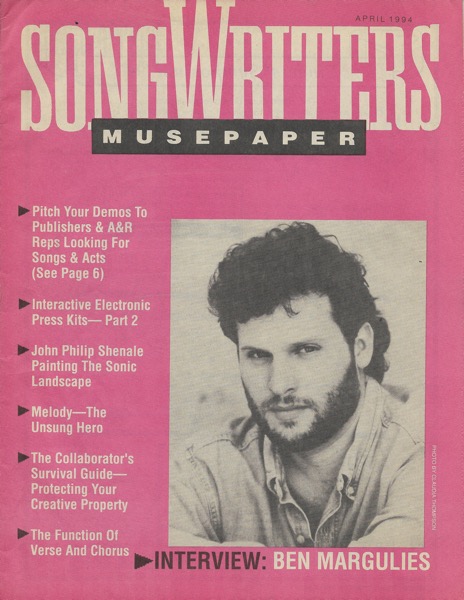 JB#: C000000062-034-001
JB #: C000000062-034-002
---
Table of Contents
(Digitally converted text. Some errors may occur)
FEATURES
INTERVIEW-
BEN MARGULIES………………………………………………………………………… 7
Laura Fissinger and BMI provide us with an insightful piece on Ben Margulies, whose collaborations with Mariah Carey provided them both with several hits and a BMI (most played) Song Of The Year in "Love Takes Time."
THEORETICALLY SPEAKING-
THE FUNCTION OF VERSE AND CHORUS…………………………………….. 10
David Cat Cohen is back with some more user friendly information
on songwriting craft.
MUSICAL NOTES-
MELODY-THE UNSUNG HERO……………………………………………………… 12
Harriet Schock lobbies for some sense of uniqueness in your melody
writing and trying to achieve it through its adventurous coupling with
rhythm and harmony.
SPOTLIGHT-
JOHN PHILIP SHENALE-PAINTING THE SONIC LANDSCAPE…………… 15
Ivy White chronicles Shenale's experimental approach to
arrangements on Tori Amos' new Under The Pink album.
TOOLS OF THE TRADE-
INTERACTIVE ELECTRONIC PRESS KITS-PART 2…………………………. 16
Our cyberguru Simon Higgs takes us through a software jungle,
this time to show you the tools available for multimedia production.
THE COLLABORATOR'S SURVIVAL GUIDE-
PROTECTING YOUR CREATIVE PROPERTY…………………………………. 18
Jeff Saxon gives you some basics on collaboration agreements.
CREATIVITY QUICK QUOTES………………………………………………………. 19
In the first of several periodic features, we recap some salient
comments on the creative processes of successful writers and
writer/artists from previous interviews. This time it's Desmond Child,
Mary-Chapin Carpenter and Martin Page.
LASS NEWS
MEMBER NEWS – NOTEWORTHY – MUSICAL CHAIRS………………………. 4
News about classes, biz events, where your favorite publishers
and A&R reps are this month, good stuff about our Members
and Pickups.
WEEKLY SHOWCASE SCHEDULE………………………………………………….. 6
Cassette RouletteTM (publisher song critiques) and Pitch-A-Thon"
(producers and record company reps looking for songs and acts).
From the Acting Archivist…
Much like the Songmine columns posted earlier, the archives contain a large collection of Songwriter Musepaper publications. With this posting, I am beginning a project to scan the cover and table of contents of each issue and then OCR (convert the scanned picture to text) the table of contents in order to make it searchable. I don't yet have the staff necessary to create complete scanned issues of the Museupaper, but if there is interest in a particular article or interview, I can scan that and make it available here.

Douglas E. Welch, douglas@welchwrite.com
Previously in Songwriters Musepaper: