Songwriters Musepaper – Volume 8 Issue 8 – August 1993 – Cover: Interview: Janis Ian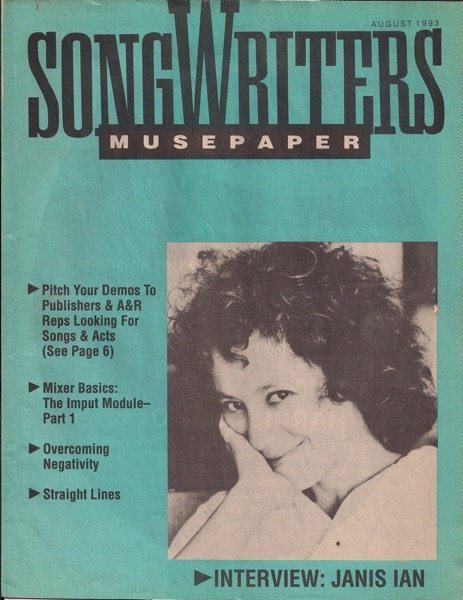 JB#: C000000062-002-001
JB #: C000000062-002-002
---
Table of Contents
(Digitally converted text. Some errors may occur)
INTERVIEW – JANIS IAN 7 
Len Chandler recounts the trials and triumphs of the original comeback kid whose new album has just been released by Morgan Creek Records. 
UPBEAT – OVERCOMING NEGATIVITY 11 
Dan Kimpel gives us some tips on keeping a positive attitude in the face of the constant rejection songwriters must endure, along with fear of success and fear of failure. 
TOOLS OF THE TRADE MIXER BASICS: THE INPUT MODULE-PART 1 . . ………. 12 
Hank Linderman offers the first of a two-part series on the techniques and technology of mixers and mixing for songwriters who want to produce your own demos. 
MUSICAL NOTES STRAIGHT LINES 14 
Harriet Schock observes that if you have trouble focusing and communicating clearly in your songs, it may be because you're having trouble focusing in your life. 
LAS3S NEWS 
MEMBER NEWS – NOTEWORTAY V'Kji3-DCAL CHAMS – – – . 
News about classes, biz events, where your favorite publishers and A&R reps are this month, gOod stuff about our Members and Pickups. 
WEEKLY SHOWCASE SCHEDULE ………………. –
Cassette RouletteTM (publisher song critiques) and Pitch-A-ThonTM (producers and record company reps looking for songs and acts). .12 
---
From the Acting Archivist…
Much like the Songmine columns posted earlier, the archives contain a large collection of Songwriter Musepaper publications. With this posting, I am beginning a project to scan the cover and table of contents of each issue and then OCR (convert the scanned picture to text) the table of contents in order to make it searchable. I don't yet have the staff necessary to create complete scanned issues of the Museupaper, but if there is interest in a particular article or interview, I can scan that and make it available here.

Douglas E. Welch, douglas@welchwrite.com
Previously in Songwriters Musepaper: