Songwriters Musepaper – Volume 8 Issue 7 – July 1993 – Interview: John Keller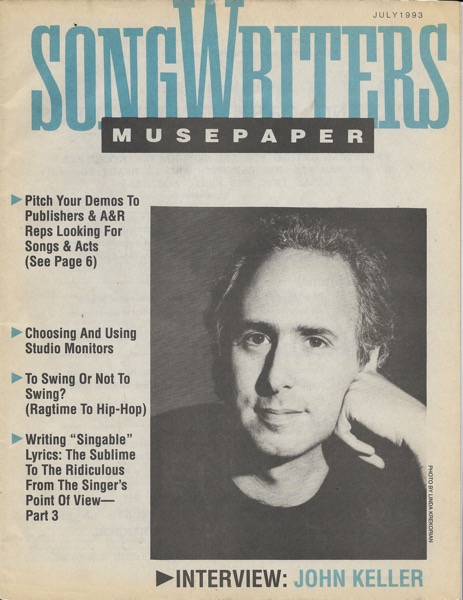 JB#: C000000062-036-001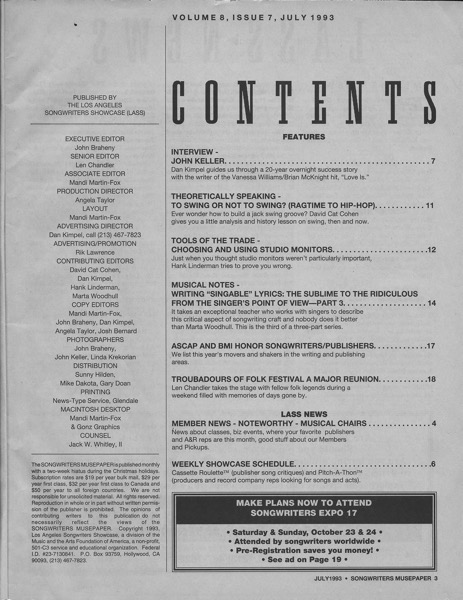 JB #: C000000062-036-002
---
Table of Contents
(Digitally converted text. Some errors may occur)
FEATURES
INTERVIEW –
JOHN KELLER……………………………………………………………………………… 7
Dan Kimpel guides us through a 20-year overnight success story
with the writer of the Vanessa Williams/Brian McKnight hit, "Love Is."
THEORETICALLY SPEAKING –
TO SWING OR NOT TO SWING? (RAGTIME TO HIP-HOP)……………….. 11
Ever wonder how to build a jack swing groove? David Cat Cohen
gives you a little analysis and history lesson on swing, then and now.
TOOLS OF THE TRADE –
CHOOSING AND USING STUDIO MONITORS………………………………….. 12
Just when you thought studio monitors weren't particularly important,
Hank Linderman tries to prove you wrong.
MUSICAL NOTES –
WRITING "SINGABLE" LYRICS: THE SUBLIME TO THE RIDICULOUS
FROM THE SINGER'S POINT OF VIEW-PART 3………………………………. 14
It takes an exceptional teacher who works with singers to describe
this critical aspect of songwriting craft and nobody does it better
than Marta Woodhull. This is the third of a three-part series.
ASCAP AND BMI HONOR SONGWRITERS/PUBLISHERS…………………. 17
We list this year's movers and shakers in the writing and publishing
areas.
TROUBADOURS OF FOLK FESTIVAL A MAJOR REUNION……………….. 18
Len Chandler takes the stage with fellow folk legends during a
weekend filled with memories of days gone by.
LASS NEWS
MEMBER NEWS – NOTEWORTHY – MUSICAL CHAIRS……………………….. 4
News about classes, biz events, where your favorite publishers
and A&R reps are this month, good stuff about our Members
and Pickups.
WEEKLY SHOWCASE SCHEDULE………………………………………………….. 6
Cassette Roulette," (publisher song critiques) and Pitch-A-ThonTm
(producers and record company reps looking for songs and acts).
From the Acting Archivist…
Much like the Songmine columns posted earlier, the archives contain a large collection of Songwriter Musepaper publications. With this posting, I am beginning a project to scan the cover and table of contents of each issue and then OCR (convert the scanned picture to text) the table of contents in order to make it searchable. I don't yet have the staff necessary to create complete scanned issues of the Museupaper, but if there is interest in a particular article or interview, I can scan that and make it available here.

Douglas E. Welch, douglas@welchwrite.com
Previously in Songwriters Musepaper: