Songwriters Musepaper – Volume 8 Issue 10 – October 1993 – Cover: Charles John Quarto and Pete Wasner
JB#: C000000062-005-001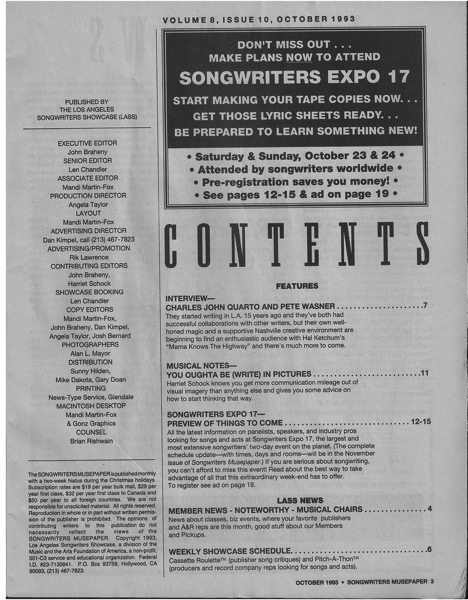 JB #: C000000062-005-002
---
Table of Contents
(Digitally converted text. Some errors may occur)
INTERVIEW-CHARLES JOHN QUARTO AND PETE WASNER 7
They started writing in L.A. 15 years ago and they've both had successful collaborations with other writers, but their own well-honed magic and a supportive Nashville creative environment are beginning to find an enthusiastic audience with Hal Ketchum's "Mama Knows The Highway" and there's much more to come.
MUSICAL NOTES-YOU OUGHTA BE (WRITE) IN PICTURES
Harriet Schock knows you get more communication mileage out of visual imagery than anything else and gives you some advice on how to start thinking that way. 11
SONGWRITERS EXPO 17- PREVIEW OF THINGS TO COME 12-15
All the latest information on panelists, speakers, and industry pros looking for songs and acts at Songwriters Expo 17, the largest and most extensive songwriters' two-day event on the planet. (The complete schedule update—with times, days and rooms—will be in the November issue of Songwriters Musepaper.) If you are serious about songwriting, you can't afford to miss this event! Read about the best way to take advantage of all that this extraordinary week-end has to offer. To register see ad on page 19.
LASS NEWS MEMBER NEWS – NOTEWORTHY – MUSICAL CHAIRS 4
News about classes, biz events, where your favorite publishers and A&R reps are this month, good stuff about our Members and Pickups.
WEEKLY SHOWCASE SCHEDULE 6
Cassette Roulette1M (publisher song critiques) and Pitch-A-ThonTm (producers and record company reps looking for songs and acts).
---
From the Acting Archivist…
Much like the Songmine columns posted earlier, the archives contain a large collection of Songwriter Musepaper publications. With this posting, I am beginning a project to scan the cover and table of contents of each issue and then OCR (convert the scanned picture to text) the table of contents in order to make it searchable. I don't yet have the staff necessary to create complete scanned issues of the Museupaper, but if there is interest in a particular article or interview, I can scan that and make it available here.

Douglas E. Welch, douglas@welchwrite.com
Previously in Songwriters Musepaper: