Songwriters Musepaper – Volume 9 Issue 4 – April 1994 – Interview: Ben Margulies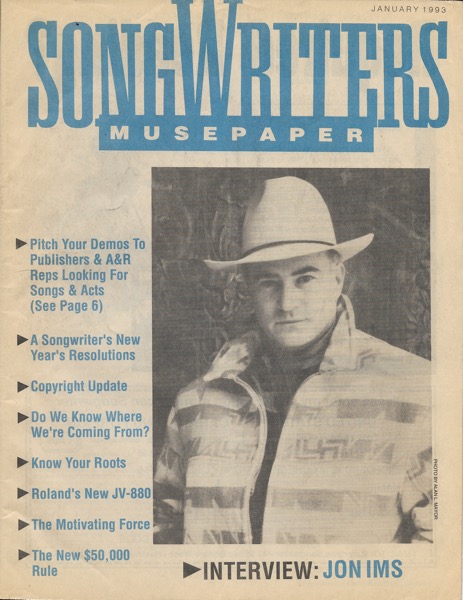 JB#: C000000062-035-001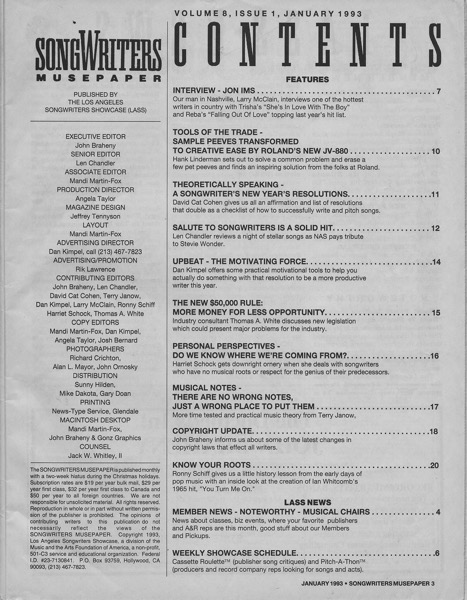 JB #: C000000062-035-002
---
Table of Contents
(Digitally converted text. Some errors may occur)
VOLUME 8, ISSUE 1, JANUARY 1993
CONTENTS
FEATURES
INTERVIEW – JON IMS…………………………………………………………………. 7
Our man in Nashville, Larry McClain, interviews one of the hottest
writers in country with Trisha's "She's In Love With The Boy"
and Reba's "Falling Out Of Love" topping last year's hit list.
TOOLS OF THE TRADE –
SAMPLE PEEVES TRANSFORMED
TO CREATIVE EASE BY ROLAND'S NEW JV-880………………………….. 10
Hank Linderman sets out to solve a common problem and erase a
few pet peeves and finds an inspiring solution from the folks at Roland.
THEORETICALLY SPEAKING –
A SONGWRITER'S NEW YEAR'S RESOLUTIONS…………………………… 11
David Cat Cohen gives us all an affirmation and list of resolutions
that double as a checklist of how to successfully write and pitch songs.
SALUTE TO SONGWRITERS IS A SOLID HIT………………………………… 12
Len Chandler reviews a night of stellar songs as NAS pays tribute
to Stevie Wonder.
UPBEAT – THE MOTIVATING FORCE……………………………………………. 14
Dan Kimpel offers some practical motivational tools to help you
actually do something with that resolution to be a more productive
writer this year.
THE NEW $50,000 RULE:
MORE MONEY FOR LESS OPPORTUNITY    15 Industry consultant Thomas A. White discusses new legislation
which could present major problems for the industry.
PERSONAL PERSPECTIVES –
DO WE KNOW WHERE WE'RE COMING FROM?…………………………….. 16
Harriet Schock gets downright ornery when she deals with songwriters
who have no musical roots or respect for the genius of their predecessors.
MUSICAL NOTES –
THERE ARE NO WRONG NOTES,
JUST A WRONG PLACE TO PUT THEM………………………………………… 17
More time tested and practical music theory from Terry Janow,
COPYRIGHT UPDATE………………………………………………………………… 18
John Braheny informs us about some of the latest changes in
copyright laws that effect all writers.
KNOW YOUR ROOTS…………………………………………………………………. 20
Ronny Schiff gives us a little history lesson from the early days of
pop music with an inside look at the creation of Ian Whitcomb's
1965 hit, You Turn Me On."
LASS NEWS
MEMBER NEWS – NOTEWORTHY – MUSICAL CHAIRS………………………. 4
News about classes, biz events, where your favorite publishers
and A&R reps are this month, good stuff about our Members
and Pickups.
WEEKLY SHOWCASE SCHEDULE…………………………………………………. 6
Cassette RouletteTM (publisher song critiques) and Pitch-A-ThonTm
(producers and record company reps looking for songs and acts).
From the Acting Archivist…
Much like the Songmine columns posted earlier, the archives contain a large collection of Songwriter Musepaper publications. With this posting, I am beginning a project to scan the cover and table of contents of each issue and then OCR (convert the scanned picture to text) the table of contents in order to make it searchable. I don't yet have the staff necessary to create complete scanned issues of the Museupaper, but if there is interest in a particular article or interview, I can scan that and make it available here.

Douglas E. Welch, douglas@welchwrite.com
Previously in Songwriters Musepaper: