Songwriters Musepaper – Volume 7 Issue 6 – June 1992 – Cover: Interview : Wendy Waldman & Brad Parker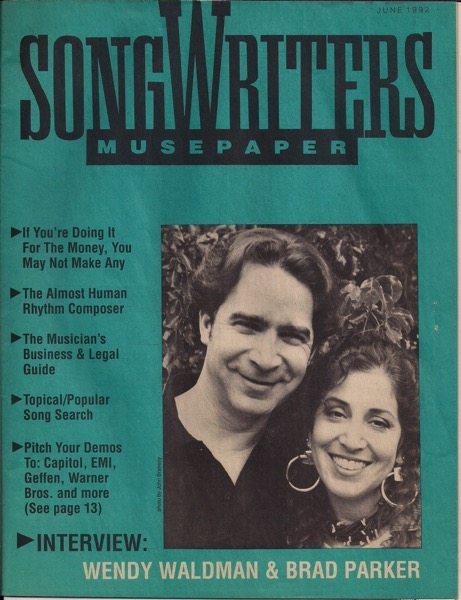 JB#: C000000062-003-001
JB #: C000000062-003-002
---
Table of Contents
(Digitally converted text. Some errors may occur)
INTERVIEW – WENDY WALDMAN AND BRAD PARKER
Writer/artist/producer Waldman and her writer/guitarist husband collaborate on life and music. John Braheny explores their successful musical interactions in-house and out.
UPBEAT – THE MUSICIAN'S BUSINESS & LEGAL GUIDE 12
Dan Kimpel finds the ultimate, readable reference on the music biz.
TOOLS OF THE TRADE – THE ALMOST HUMAN RHYTHM COMPOSER 16
Hank Linderman, ever in search of the ultimate drum machine comes as close to unbridled enthusiasm as he ever gets.
PERSONAL PERSPECTIVE – IF YOU'RE DOING IT FOR THE MONEY, YOU MAY NOT MAKE ANY 18
Hit writer, teacher and recording artist Harriet Schock makes you take a close look at your motivation.
MUSICAL NOTES – TOPICAL/POPULAR SONG SEARCH 19
Len Chandler, LASS co-founder/director and veteran topical songwriter launches a new project.
LASS NEWS MEMBER NEWS – NOTEWORTHY – MUSICAL CHAIRS 4
News about classes, biz events, where your favorite publishers and a&r reps are this month and good stuff about our members and Pickups.
WEEKLY SHOWCASE SCHEDULE 13
Cassette RouletteTM (publisher song critiques), Pitch-A-ThonTm (producers and record company reps looking for songs and acts).
---
From the Acting Archivist…
Much like the Songmine columns posted earlier, the archives contain a large collection of Songwriter Musepaper publications. With this posting, I am beginning a project to scan the cover and table of contents of each issue and then OCR (convert the scanned picture to text) the table of contents in order to make it searchable. I don't yet have the staff necessary to create complete scanned issues of the Museupaper, but if there is interest in a particular article or interview, I can scan that and make it available here.

Douglas E. Welch, douglas@welchwrite.com
Previously in Songwriters Musepaper: