Songwriters Musepaper – Volume 6 Issue 10 – October 1991 – Interview: Dewayne Blackwell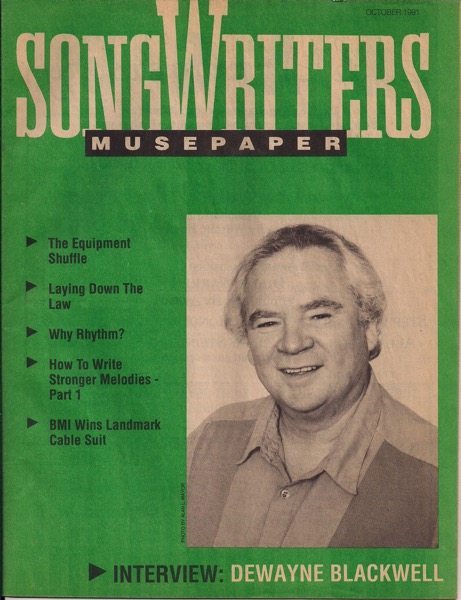 JB#: C000000062-007-001
JB #: C000000062-007-002
---
Table of Contents
(Digitally converted text. Some errors may occur)
SPOTLIGHT – BMI WINS LANDMARK CABLE SUIT 6
The BMI victory marks the beginning of a new negotiating climate for BMI writers and publishers and cable television.
INTERVIEW – DEWAYNE BLACKWELL 7
He's been writing hits for over 30 years and his most recent, "Friends In Low Places" with over four million in album sales , not counting sales of the single, is the biggest yet. John Braheny gets into his life and craft.
MUSICAL NOTES – HOW TO WRITE STRONGER MELODIES 10
Molly-Ann Leikin is back with some good advice on melody writing from her book, How To Make A Good Song A Hit Song.
TOOLS OF THE TRADE – THE EQUIPMENT SHUFFLE 11
Writer/demo producer Mike Booth, through trial, error and economic necessity, has figured out how to update his equipment at a minimum cost. Check it out!
UPBEAT – LAYING DOWN THE LAW 15
Dan Kimpel reviews a new book, All You Need To Know AboutThe Music Business, by entertainment attorney Don Passman.
THEORETICALLY SPEAKING – WHY RHYTHM? 22
David Cat Cohen explores the obvious and not-so-obvious reasonsfor the importance of grooves in contemporary music. LASS NEWS
MEMBER NEWS – NOTEWORTHY – MUSICAL CHAIRS 4
News about classes, biz events, where your favorite publishers and a&r reps are this month, good stuff about our members and Pickups.
WEEKLY SHOWCASE SCHEDULE
Cassette RouletteTM (publisher song critiques), Pitch-A-ThonTM (producers and record company reps looking for songs and acts).
---
From the Acting Archivist…
Much like the Songmine columns posted earlier, the archives contain a large collection of Songwriter Musepaper publications. With this posting, I am beginning a project to scan the cover and table of contents of each issue and then OCR (convert the scanned picture to text) the table of contents in order to make it searchable. I don't yet have the staff necessary to create complete scanned issues of the Museupaper, but if there is interest in a particular article or interview, I can scan that and make it available here.

Douglas E. Welch, douglas@welchwrite.com
Previously in Songwriters Musepaper: