Songwriters Musepaper – Volume 6 Issue 1 – January 1991 – Interview: Fee Waybill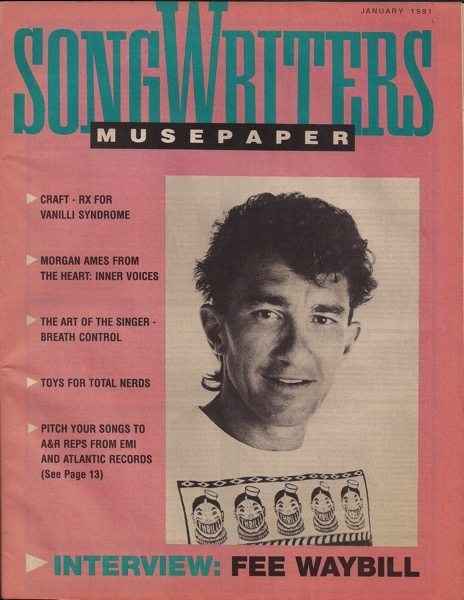 JB#: C000000062-016-001
JB #: C000000062-016-002
---
Table of Contents
(Digitally converted text. Some errors may occur)
INTERVIEW – FEE WAYBILL 7 
The former Tubes' lead singer chronicles his development as a lyricist and talks about his collaborators which include Richard Marx, Tom Snow and others. 
CENSORSHIP – EDITORIAL 12 
Len Chandler gives the censorship issue some historical perspective.
NAS SALUTES THE AMERICAN SONGWRITER 15 
Once more, hit writers performing their own songs create a memorable night. 
CRAFT – RX FOR VANILLI SYNDROME 16 
David Cat Cohen departs from his usual how-to for some philosophy on the value of craftsmanship. 
MORGAN AMES FROM THE HEART: INNER VOICES 17 
Dan Kimpel finds the primo vocal group. 
THE ART OF THE SINGER – BREATH CONTROL 
Vocal coach Lis Lewis gives you some exercises to keep your pipes tuned. 
TOOLS OF THE TRADE 20
Two New Toys For Total Nerds Hank Linderman has some new toys for ya, nerds or not. He also gets philosophical around this time of year. 
LASS NEWS 
MEMBER NEWS – NOTEWORTHY – MUSICAL CHAIRS – PICKUPS 4 
News about classes, biz events, where your favorite publishers and a&r reps are this month and good stuff about our members and Pickups (songs picked up at the weekly Songwriters Showcase and held for further consideration by our music industry guests). 
WEEKLY SHOWCASE SCHEDULE 25
Cassette Rouletteml (publisher song critiques) and Pitch-A-ThonTM (producers and record company reps looking for songs and acts). 
From the Acting Archivist…
Much like the Songmine columns posted earlier, the archives contain a large collection of Songwriter Musepaper publications. With this posting, I am beginning a project to scan the cover and table of contents of each issue and then OCR (convert the scanned picture to text) the table of contents in order to make it searchable. I don't yet have the staff necessary to create complete scanned issues of the Museupaper, but if there is interest in a particular article or interview, I can scan that and make it available here.

Douglas E. Welch, douglas@welchwrite.com
Previously in Songwriters Musepaper:
Songwriters Musepaper – Volume 6 Issue 1 – January 1991 – Interview: Fee Waybill