Songwriters Musepaper – Volume 10 Issue 8 – August 1995 – Interview: Hami
JB#: C000000062-029-001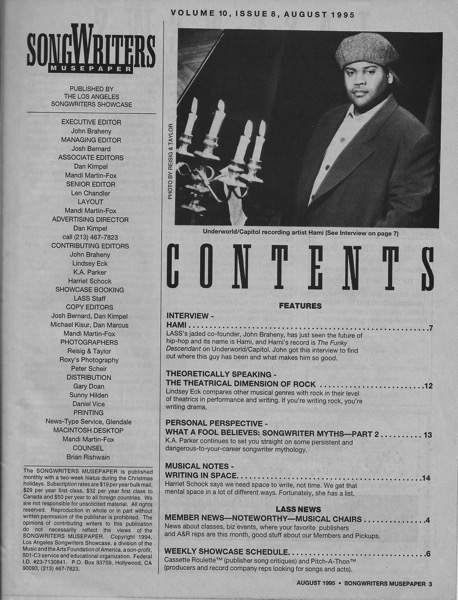 JB #: C000000062-029-002
---
Table of Contents
(Digitally converted text. Some errors may occur)
FEATURES
INTERVIEW –
HAMI 7
LASS's jaded co-founder, John Braheny, has just seen the future of hip-hop and its name is Hami, and Hami's record is The Funky Descendant on Underworld/Capitol. John got this interview to find out where this guy has been and what makes him so good.
THEORETICALLY SPEAKING –
THE THEATRICAL DIMENSION OF ROCK 12
Lindsey Eck compares other musical genres with rock in their level of theatrics in performance and writing. If you're writing rock, you're writing drama.
PERSONAL PERSPECTIVE –
WHAT A FOOL BELIEVES: SONGWRITER MYTHS-PART 2 13
K.A. Parker continues to set you straight on some persistent and dangerous-to-your-career songwriter mythology.
MUSICAL NOTES –
WRITING IN SPACE
14 Harriet Schock says we need space to write, not time. We get that mental space in a lot of different ways. Fortunately, she has a list.
LASS NEWS
MEMBER NEWS-NOTEWORTHY-MUSICAL CHAIRS 4
News about classes, biz events, where your favorite publishers and A&R reps are this month, good stuff about our Members and Pickups.
WEEKLY SHOWCASE SCHEDULE 6
Cassette Roulette TM (publisher song critiques) and Pitch-A-Thon TM (producers and record company reps looking for songs and acts).
AUGUST 1995 • SONGWRITERS MUSEPAPER 3
From the Acting Archivist…
Much like the Songmine columns posted earlier, the archives contain a large collection of Songwriter Musepaper publications. With this posting, I am beginning a project to scan the cover and table of contents of each issue and then OCR (convert the scanned picture to text) the table of contents in order to make it searchable. I don't yet have the staff necessary to create complete scanned issues of the Museupaper, but if there is interest in a particular article or interview, I can scan that and make it available here.

Douglas E. Welch, douglas@welchwrite.com
Previously in Songwriters Musepaper: