Songwriters Musepaper – Volume 10 Issue 7 – July 1995 – Interview: Eddie Money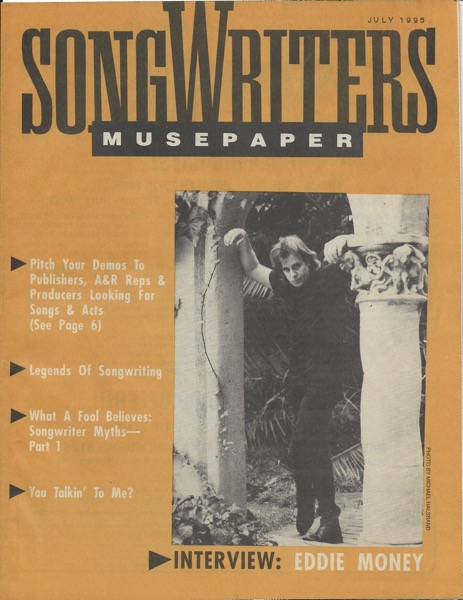 JB#: C000000062-030-001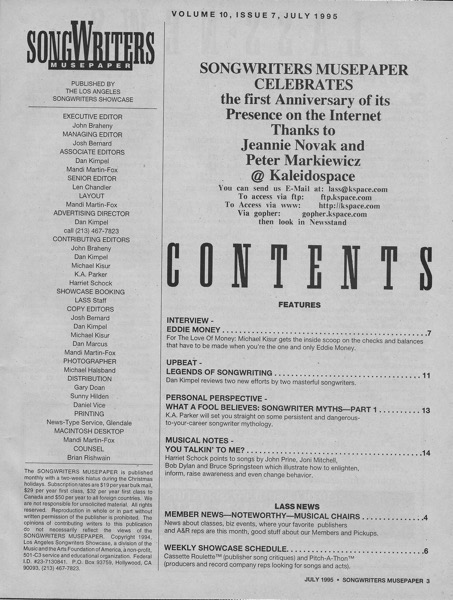 JB #: C000000062-030-002
---
Table of Contents
(Digitally converted text. Some errors may occur)
INTERVIEW –
EDDIE MONEY 7
For The Love Of Money: Michael Kisur gets the inside scoop on the checks and balances that have to be made when you're the one and only Eddie Money.
UPBEAT-
LEGENDS OF SONGWRITING 11
Dan Kimpel reviews two new efforts by two masterful songwriters.
PERSONAL PERSPECTIVE –
WHAT A FOOL BELIEVES: SONGWRITER MYTHS-PART 1 13
K.A. Parker will set you straight on some persistent and dangerous-to-your-career songwriter mythology.
MUSICAL NOTES –
YOU TALKIN' TO ME? 14
Harriet Schock points to songs by John Prine, Joni Mitchell, Bob Dylan and Bruce Springsteen which illustrate how to enlighten, inform, raise awareness and even change behavior.
LASS NEWS
MEMBER NEWS-NOTEWORTHY-MUSICAL CHAIRS 4
News about classes, biz events, where your favorite publishers and A&R reps are this month, good stuff about our Members and Pickups.
WEEKLY SHOWCASE SCHEDULE 6
Cassette Roulette TM (publisher song critiques) and Pitch-A-Thon TM (producers and record company reps looking for songs and acts).
JULY 1995 • SONGWRITERS MUSEPAPER 3
From the Acting Archivist…
Much like the Songmine columns posted earlier, the archives contain a large collection of Songwriter Musepaper publications. With this posting, I am beginning a project to scan the cover and table of contents of each issue and then OCR (convert the scanned picture to text) the table of contents in order to make it searchable. I don't yet have the staff necessary to create complete scanned issues of the Museupaper, but if there is interest in a particular article or interview, I can scan that and make it available here.

Douglas E. Welch, douglas@welchwrite.com
Previously in Songwriters Musepaper: