Songwriter Musepaper – Volume 9 Issue 9 – September 1994 – Interview: Jeff Buckley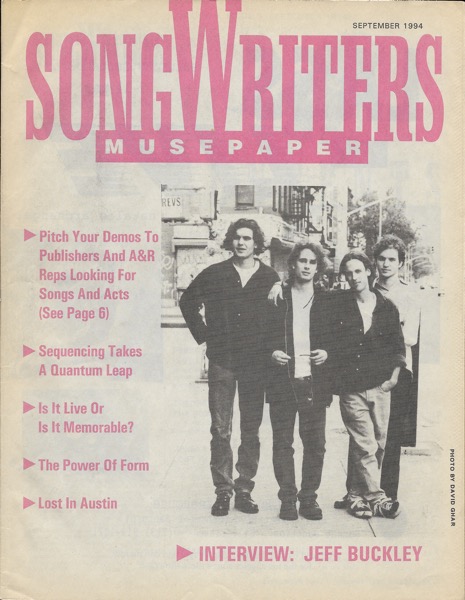 JB#: C000000062-032-001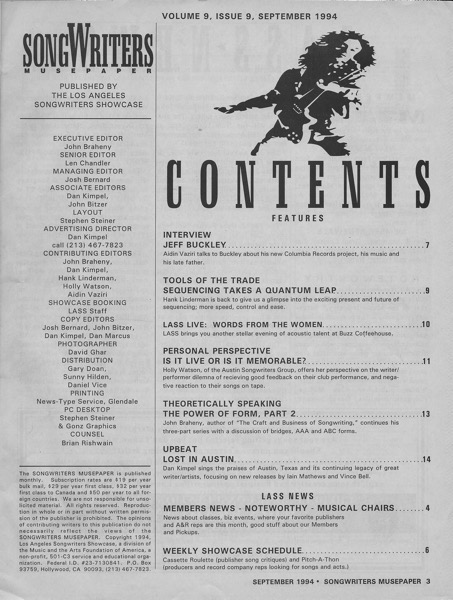 JB #: C000000062-032-002
---
Table of Contents
(Digitally converted text. Some errors may occur)
INTERVIEW
JEFF BUCKLEY………………………………………………………. 7
Aidin Vaziri talks to Buckley about his new Columbia Records project, his music and his late father.
TOOLS OF THE TRADE
SEQUENCING TAKES A QUANTUM LEAP………………………. 9
Hank Linderman is back to give us a glimpse into the exciting present and future of sequencing; more speed, control and ease.
LASS LIVE: WORDS FROM THE WOMEN……………………………. 10
LASS brings you another stellar evening of acoustic talent at Buzz Coffeehouse.
PERSONAL PERSPECTIVE
IS IT LIVE OR IS IT MEMORABLE?……………………………………………… 11
Holly Watson, of the Austin Songwriters Group, offers her perspective on the writer/ performer dilemma of receiving good feedback on their club performance, and negative reaction to their songs on tape.
THEORETICALLY SPEAKING
THE POWER OF FORM, PART 2………………………………… 13
John Braheny, author of "The Craft and Business of Songwriting," continues his three-part series with a discussion of bridges, AAA and ABC forms.
UPBEAT
LOST IN AUSTIN………………………………………………….. 14
Dan Kimpel sings the praises of Austin, Texas and its continuing legacy of great writer/artists, focusing on new releases by lain Mathews and Vince Bell.
LASS NEWS
MEMBERS NEWS – NOTEWORTHY – MUSICAL CHAIRS…….. 4
News about classes, biz events, where your favorite publishers and A&R reps are this month, good stuff about our Members and Pickups.
WEEKLY SHOWCASE SCHEDULE………………………………… 6
Cassette Roulette (publisher song critiques) and Pitch-A-Thon (producers and record company reps looking for songs and acts.)
From the Acting Archivist…
Much like the Songmine columns posted earlier, the archives contain a large collection of Songwriter Musepaper publications. With this posting, I am beginning a project to scan the cover and table of contents of each issue and then OCR (convert the scanned picture to text) the table of contents in order to make it searchable. I don't yet have the staff necessary to create complete scanned issues of the Museupaper, but if there is interest in a particular article or interview, I can scan that and make it available here.

Douglas E. Welch, douglas@welchwrite.com
Previously in Songwriters Musepaper: