Songwriter Musepaper – Volume 5 Issue 10 – October 1990 – Songwriters Expo 14 – Interview: Glen Ballard
JB#: C000000062-008-001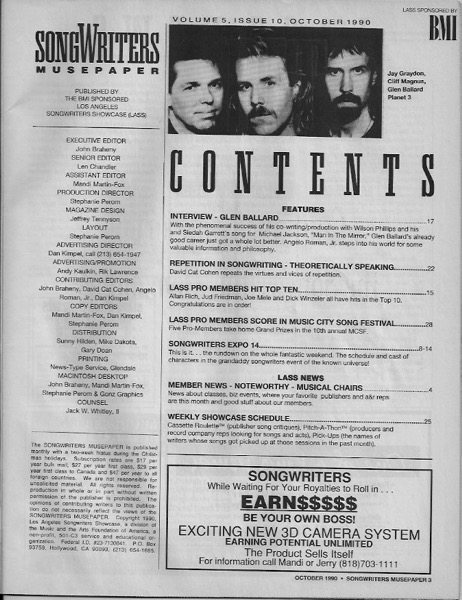 JB #: C000000062-008-002
---
Table of Contents
(Digitally converted text. Some errors may occur)
FEATURES
INTERVIEW – GLEN BALLARD 7
With the phenomenal success of his co-writing/production with Wilson Phillips and his and Siedah Garrett's song for Michael Jackson, "Man In The Mirror," Glen Ballard's already good career just got a whole lot better. Angelo Roman, Jr. steps into his world for some valuable information and philosophy.
REPETITION IN SONGWRITING THEORETICALLY SPEAKING 22
David Cat Cohen repeats the virtues and vices of repetition.
LASS PRO MEMBERS HIT TOP TEN
Allan Rich, Jud Friedman, Joe Mele and Dick Winzeler all have hits in the Top 10. Congratulations are in order!
LASS PRO MEMBERS SCORE IN MUSIC CITY SONG FESTIVAIL
Five Pro-Members take home Grand Prizes in the 10th annual MCSF.
SONGWRITERS EXPO 14 8-14
This is it…the rundown on the whole fantastic weekend. The schedule and cast of characters in the grandaddy songwriters event of the known universe!
LASS NEWS
MEMBER NEWS – NOTEWORTHY – MUSICAL CHAIRS
News about classes, biz events, where your favorite publishers and A&R reps are this month and good stuff about our members.
WEEKLY SHOWCASE SCHEDULE 25
Cassette RouletteTM (publisher song critiques), Pitch-A-ThonTM (producers and record company reps looking for songs and acts), Pick-ups (the names of writers) whose songs got picked up at those sessions in the past month).
---
From the Acting Archivist…
Much like the Songmine columns posted earlier, the archives contain a large collection of Songwriter Musepaper publications. With this posting, I am beginning a project to scan the cover and table of contents of each issue and then OCR (convert the scanned picture to text) the table of contents in order to make it searchable. I don't yet have the staff necessary to create complete scanned issues of the Museupaper, but if there is interest in a particular article or interview, I can scan that and make it available here.

Douglas E. Welch, douglas@welchwrite.com
Previously in Songwriters Musepaper: