Songwriters Musepaper – Volume 9 Issue 1 – January 1994 – Interview: Aimee Mann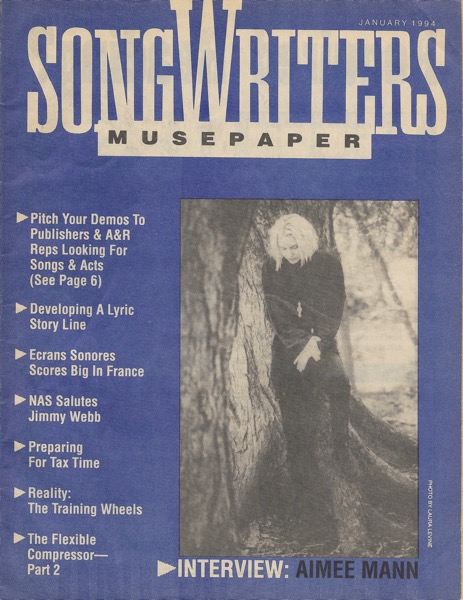 JB#: C000000062-044-001
JB #: C000000062-044-002
---
Table of Contents
(Digitally converted text. Some errors may occur)
FEATURES
INTERVIEW-
AIMEE MANN……………………………………………………………………………… 7
John Bitzer gets the former Til Tuesday lead singer/writer and now
solo artist to tell music biz war stories just so you don't get the idea
that once you get the record deal you've got it made.
THEORETICALLY SPEAKING-
DEVELOPING A LYRIC STORY LINE…………………………………………… 11
David Cat Cohen continues on the subject of developing a cohesive
story line with a beginning, a middle and end.
ECRANS SONORES SCORES BIG IN FRANCE……………………………… 12
Len Chandler recently covered the Second Annual International
Music and Film Conference in France and lived to bring back the
story. (Some people have all the luck!)
MUSICAL NOTES-
REALITY: THE TRAINING WHEELS……………………………………………… 14
Harriet Schock thinks you should forget writing songs about
subjects you know nothing about and "get real."
PREPARING FOR TAX TIME……………………………………………………….. 15
Tax accountant Robert Klein tells you what you should be (or should
have been) doing to avoid the hassles of the audit-from-hell or just
save yourself some money on accounting fees.
TOOLS OF THE TRADE-
THE FLEXIBLE COMPRESSOR-PART 2……………………………………….. 16
Hank Linderman concludes his two-part series on getting the most
from your compressor covering compressing a vocal, level
smoothing, ganged compressors, stereo compression and more.
SPOTLIGHT-
NAS SALUTES JIMMY WEBB……………………………………………………… 18
John Braheny covers the Eighth Annual Salute to the American
Songwriter.
LASS NEWS
MEMBER NEWS – NOTEWORTHY – MUSICAL CHAIRS……………………… 4
News about classes, biz events, where your favorite publishers
and A&R reps are this month, good stuff about our Members
and Pickups.
WEEKLY SHOWCASE SCHEDULE………………………………………………… 6
Cassette RouletteTM (publisher song critiques) and Pitch-A-ThonTM
(producers and record company reps looking for songs and acts).
See all Previous Songwriter Musepaper Posts
From the Acting Archivist…
Much like the Songmine columns posted earlier, the archives contain a large collection of Songwriter Musepaper publications. With this posting, I am beginning a project to scan the cover and table of contents of each issue and then OCR (convert the scanned picture to text) the table of contents in order to make it searchable. I don't yet have the staff necessary to create complete scanned issues of the Museupaper, but if there is interest in a particular article or interview, I can scan that and make it available here.

Douglas E. Welch, douglas@welchwrite.com