Songwriters Musepaper – Volume 10 Issue 3 – March 1995 – Interview: Randy Sharp
JB#: C000000062-038-001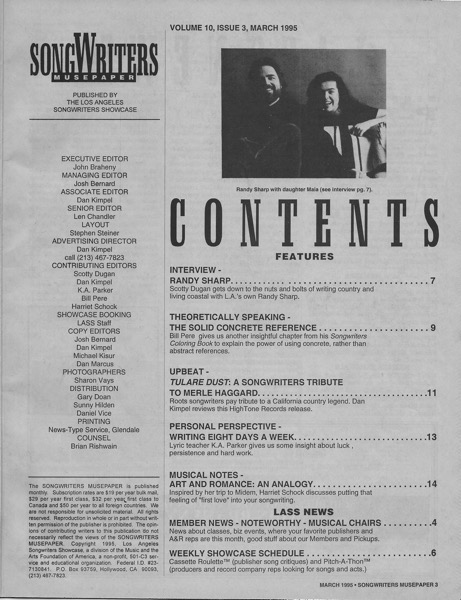 JB #: C000000062-038-002
---
signINTERVIEW –
RANDY SHARP  …………………………………………………………………………. 7
Scotty Dugan gets down to the nuts and bolts of writing country and living coastal with L.A.'s own Randy Sharp.
THEORETICALLY SPEAKING –
THE SOLID CONCRETE REFERENCE…………………………………………. 9
Bill Pere gives us another insightful chapter from his Songwriters Coloring Book to explain the power of using concrete, rather than abstract references.
UPBEAT –
TULARE DUST: A SONGWRITERS TRIBUTE
TO MERLE HAGGARD……………………………………………………………… 11
Roots songwriters pay tribute to a California country legend. Dan Kimpel reviews this HighTone Records release.
PERSONAL PERSPECTIVE –
WRITING EIGHT DAYS A WEEK………………………………………………… 13
Lyric teacher K.A. Parker gives us some insight about luck , persistence and hard work.
MUSICAL NOTES –
ART AND ROMANCE: AN ANALOGY………………………………………… 14
Inspired by her trip to Midem, Harriet Schock discusses putting that feeling of "first love" into your songwriting.
LASS NEWS
MEMBER NEWS – NOTEWORTHY – MUSICAL CHAIRS………………… 4
News about classes, biz events, where your favorite publishers and A&R reps are this month, good stuff about our Members and Pickups.
WEEKLY SHOWCASE SCHEDULE………………………………………………. 6
Cassette RouletteTM (publisher song critiques) and Pitch-A-ThonTm (producers and record company reps looking for songs and acts.)
See all Previous Songwriter Musepaper Posts
From the Acting Archivist…
Much like the Songmine columns posted earlier, the archives contain a large collection of Songwriter Musepaper publications. With this posting, I am beginning a project to scan the cover and table of contents of each issue and then OCR (convert the scanned picture to text) the table of contents in order to make it searchable. I don't yet have the staff necessary to create complete scanned issues of the Museupaper, but if there is interest in a particular article or interview, I can scan that and make it available here.

Douglas E. Welch, douglas@welchwrite.com