A John Braheny Songmine column from the archives…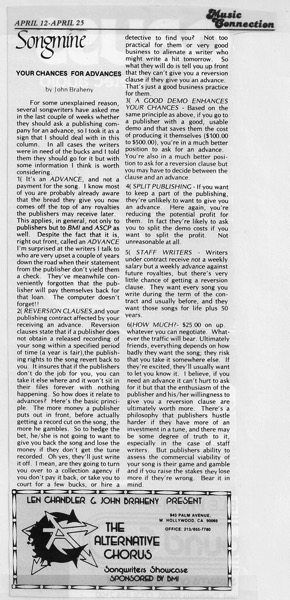 Accession Number: C000000137-016 Document/Digital File, "Songmine: The Chances for Advances by John Braheny", OCR converted text under same Accession Number
(Digitally converted text. Some errors may occur)
Songmine: The Chances for Advances by John Braheny
APRIL 12-APRIL 25
Songmine
YOUR CHANCES FOR ADVANCES
by John Braheny
For some unexplained reason, several songwriters have asked me in the last couple of weeks whether they should ask a publishing com-pany for an advance, so I took it as a sign that I should deal with in this column. In all cases the writers were in need of the bucks and I told them they should go for it but with some information I think is worth considering.
1) It's an ADVANCE, and not a payment for the song. I know most of you are probably already aware that the bread they give you now comes off the top of any royalties the publishers may receive later. This applies, in general, not only to publishers but to BM1 and ASCP as well. Despite the fact that it is, right out front, called an ADVANCE I'm surprised at the writers I talk to who are very upset a couple of years down the road when their statement from the publisher don't yield them a check. They've meanwhile con-veniently forgotten that the pub-lisher will pay themselves back for that loan. The computer doesn't forget!!
2) REVERSION CLAUSES,and your publishing contract affected by your receiving an advance. Reversion clauses state that if a publisher does not obtain a released recording of your song within a specified period of time )a year is fair),the publish-ing rights to the song revert back to you. It insures that if the publishers don't do the job for you, you can take it else where and it won't sit in their files forever with nothing happening. So how does it relate to advances? Here's the basic princi-ple. The more money a publisher puts out in front, before actually getting a record cut on the song, the more he gambles. So to hedge the bet, he/she is not going to want to give you back the song and lose the money if they don't get the tune recorded. Oh yes, they'll just write it off. I mean, are they going to turn you over to a collection agency if you don't pay it back, or take you to court for a few bucks, or hire a detective to find you? Not too practical for them or very good business to alienate a writer who might write a hit tomorrow. So what they will do is tell you up front that they can't give you a reversion clause if they give you an advance. That's just a good business practice for them.
3) A GOOD DEMO ENHANCES YOUR CHANCES – Based on the same principle as above, if you go to a publisher with a good, usable demo and that saves them the cost of producing it themselves )$100.00 to $500.00), you're in a much better position to ask for an advance. You're also in a much better posi-tion to ask for a reversion clause but you may have to decide between the clause and an advance.
4) SPLIT PUBLISHING – If you want to keep a part of the publishing, they're unlikely to want to give you an advance. Here again, you're reducing the potential profit for them. In fact they're likely to ask you to split the demo costs if you want to split the profit. Not unreasonable at all.
5) STAFF WRITERS – Writers under contract receive not a weekly salary but a weekly advance against future royalties, but there's very little chance of getting a reversion clause. They want every song you write during the term of the con-tract and usually before, and they want those songs for life plus 50 years.
6) HOW MUCH?- $25.00 on up. whatever you can negotiate. What-ever the traffic will bear. Ultimately friends, everything depends on how badly they want the song; they risk that you take it somewhere else. If they're excited, they'll usually want to let you know it. I believe, if you need an advance it can't hurt to ask for it but that the enthusiasm of the publisher and his/her willingness to give you a reversion clause are ultimately worth more. There's a philosophy that publishers hustle harder if they have more of an investment in a tune, and there may be some degree of truth to it, especially in the case of staff writers. But publishers ability to assess the commercial viability of your song is their game and gamble and if you raise the stakes they lose more if they're wrong. Bear it in mind.
Previously in the Songmine Collection:
About Songmine and Music Connection Magazine:
John Braheny met Eric Bettelli and Michael Dolan right before they were going to publish Music Connection magazine. Eric and Michael wanted to get their publication out to as many songwriters as they could. They had already heard of the LA Songwriters Showcase, and of John and his partner, Len Chandler. John's goal was to advertise the schedule of guest speakers and performers at the weekly Showcase… so they made a deal. 
They published John's Songmine column (he had never before written a magazine article!) in their very first edition, in November 1977. Trading out the column for advertising, this arrangement continued for many years. Plus, Eric and Michael came to the Showcase each week and distributed free copies to the songwriters!
Those articles became so popular that (book agent and editor) Ronny Schiff offered John's articles to F&W Media, where they became the backbone of John's textbook, The Craft and Business of Songwriting. As a follow-up, Dan Kimpel (author, songwriter, teacher), who had also worked at LASS, took on the Songwriting column at Music Connection magazine which continues to this day! You can subscribe to get either hard copies or online.